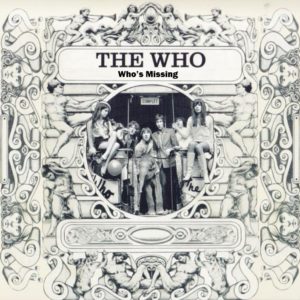 1968 was an interesting year for The Who. I covered this in a lot more detail last month in my post, 'Who's For Tennis' so see that to find out more. Since I posted that post (and a further what-if release from John Entwistle), the Super Deluxe Box Set version of 'The Who Sell Out' dropped through the door. What was evident from the booklet contained within was that main songwriter Peter Townshend struggled to have enough material for the albums they actually did release. This might explain why John Entwistle has three songs on the LP. Entwistle would only have this amount of material on a Who album on 1978's 'Who Are You' and 1982's 'It's Hard'. With Townshend consumed by producing 'Tommy' which would not see the light of day until 1969, did this box set give me enough material for an album for release in 1968 that would not cross over with the two other what-is records I put out last month?
Well, the Entwhistle record would never have seen the light of day in reality, but 'Who's For Tennis' might have been, even if it was not in the configuration that I proposed. That means, none of the covers from that album could be used. That leaves about 15 tunes that could be placed on some vinyl. Some of these did see the light of day in 1968 so I thought I would continue to use these as singles in this fantasy time line. 'Magic Bus' and 'Dogs' are the A-Sides, but the B-Sides are a little different. 'Call Me Lightning' was used as an A-Side in the US, but this is B-side material of the highest order. It sounds like it was from earlier in the 60s, which is exactly when it was written. If you are really interested, a video was shot for 'Call Me Lightning' in an abandoned warehouse in the USA which the rest of the band chases a robotic Keith Moon about. Watching this, I feel that it took one whole day to think up the concept and film it. Videos were different in the 60s. Anyway, I digress.
In the UK, 'Dogs' was the A-Side to 'Call Me Lightnings' B-Side. 'Dogs' a curious beast. It sounds nothing like any other Who song, and I thought it was a piss take when I first heard it. It might well have been, but I was surprised this was released back in the day, let alone be an A-Side. The final single would have been an exclusive for the US Market. 'Little Billy's Doing Fine' and 'Kids! Do You Want Kids' were written on belief of the American Cancer Society and were designed to warn against the dangers of smoking. Neither saw the light of day in 1968, and 'Kids! Do You Want Kids' was never recorded by The Who. The version here is Pete Townshend demo recording. 
As for the album, The Who did not have enough material to release a complete studio album. What they did have was a live recording recorded at the Filmore East in April of 1968. The plan for these recording was to release a live album, but when playing back the tapes, it was found that only some of the first night had been successfully recorded. The second night had been recorded completely but these would stay in the archive until 2018 when the tapes were dusted down and released. What if these live recordings were used in conjunctive with the studio cuts that were in the can?
A half live/half studio album is still a rarity in this day and age, let alone the 1960s. The inspiration for this set was 'Wheels on Fire' and the soon to be released 'Goodbye', by Cream. Both of these records had live and studio cuts on them. This would follow the template of 'Goodbye' though, as this is only a single album. Listening to it, it sounds exactly what it is. An album made up of outtakes with live tracks thrown in to make up the time. It does work reasonably well, though, even though the edit between 'C'Mon Everybody' and 'Boris The Spider' is a bit sharp. It is doubtful that an album like this would have been released by The Who, especially as their records at the time were not selling that well compared to the previous years. It was their live work, especially in the USA that kept the band going until 'Tommy' was unleashed in 1969.
Side A
Fortune Teller (Live)
Tattoo (Live)
Little Billy (Live)
I Can't Explain (Live)
Happy Jack (Live)
I'm A Boy (Live)
My Way (Live)
C'Mon Everybody (Live)
Boris The Spider (Live)
Side B
Glittering Girl
Inside Outside (Demo)
Jaguar (Original Mono Mix)
Girl's Eyes
Glow Girl
Melancholia
Faith In Something Bigger
Signal 30 (Sodding About)
Rael Naïve (Full Coda)
Singles
Magic Bus (UK Single Mix)
Facts Of Life (aka Birds & Bees)
Dogs (Single Mix)
Call Me Lightning (Single Mix)
Little Billy's Doing Fine
Kids! Do You Want Kids (Demo)
The cover is adapted from the Bootleg LP, 'Little Billy Relaxes At The Filmore'. I chose the title 'Who's Missing' (which would later be used for a couple of compilation albums in the 1980's) because it accurately describes the contents within.