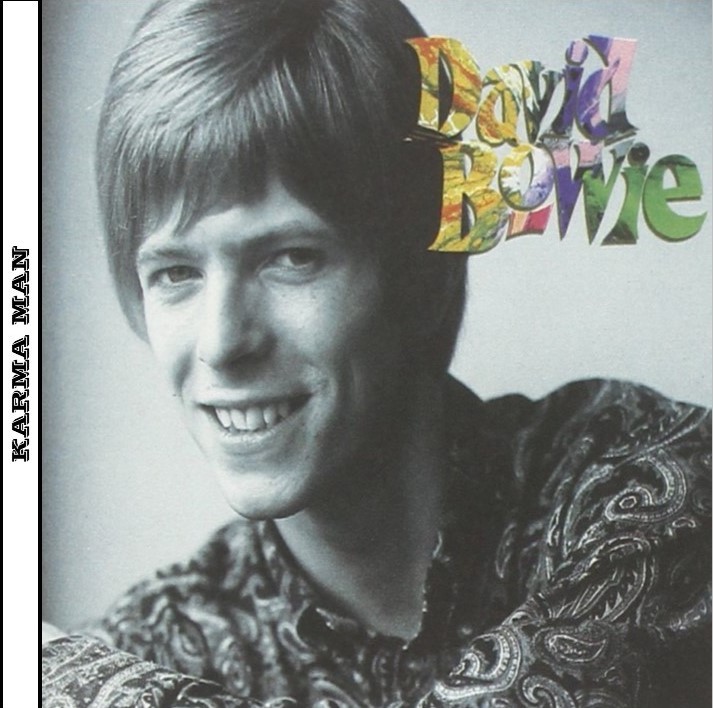 Normally I would only look to share one what-if album a month because they take a bit longer to put together than the compilations I post. However, the lockdown has given me a little bit more time and this particular piece also fits in nicely with the recent posts about Bowie that went online in February and April.
Bowie did not see much in the way of success during the 60s, but he was laying down the groundwork for what would come later. He reeled a number of singles on the Vocalion Pop, Parlophone and Pye labels but none of them troubled the charts. Even with these singles behind him, he managed to secure a deal with Deram, a subsidiary of Decca Records. He released three singles and one album whilst on the label but none were chart hits, even though The Laughing Gnome made number 6 in the UK when it was re-released in 1973. The majority of these records were released in 1967, which was one of the most experimental years for music but this curious mix of music hall/ Anthony Newley style numbers fell on deaf ears. Bowie wrote a number of new songs and presented them to the label as potential singles but they were rejected effectively ending his association with Deram & Decca. However, this compilation looks at what might have happened if these songs had not been rejected and Bowie continued to be a Deram recording artist into 1968.
Even though the recording sessions for the follow-up album were meant to start in the Spring of 1968, I have taken a view that anything that was demoed in that year could be used. I have also discounted any song that was used on the 1969 'David Bowie' album as well, so no Space Oddity I'm afraid. What we have here is a solid, if not spectacular album which is a little rough around the edges, but that was down to the fact that very few of these songs were actually recorded in a studio. Most are simply demos. Would these songs have been changed once Bowie brought them into the studio? Who knows, but what we have here is a rough idea of what a second Bowie on Deram album would have been like, with accompanying singles.
London, Bye, Ta, Ta – Originally this song was going to be the B-Side of the unreleased 'In The Heat of the Morning' single, but it sounded like a great place to start the album off and would have been wasted on the flip of a seven inch. It looks at how London is changing and has become something of a strange young town to the song's narrator.
Mother Grey – The influence of Ray Davies on Bowie's early songwriting was evident on his debut album. With the release of these 1967/8 demos, you can see that Bowie had still not got all of this out of his system with Mother Grey. The song covers the domestic drudgery of Mother Grey as she cleans the house, makes dinner and polishes the picture frame of the son who has moved out of the family home. Similar to Ray Davies' 'Two Sisters' then.
The Reverend Raymond Brown (Attends The Garden Fete On Thatchwick Green) – This would not have sounded out of place on his debut album, seeing as it follows a cast of characters in an imaginary village. Various characters are mentioned including Rev. Brown who leads the village band during a fete whilst lusting after a local beauty and the local women gossiping about Sally who has got herself pregnant. All a bit Ray Davies.
Goodbye Threepenny Jones – An observation song from Bowie where he watches a performing artist performing a show with stories of sadness and despair. Bowie's companion is heard laughing during these stories and then Joe is thanked for the show and asked not to come again.
Angel, Angel, Grubby Face – Would this one have made the cut if the second album sessions had gone ahead, seeing as it has a very similar melody line (in places) to London, Bye, Ta, Ta? This song looks at the hustle and bustle of city life with the relatively peacefulness of the countryside. The Village Green Preservation Society before it came out I suppose.
When I'm Five – Bowie must have thought highly of this song at the time because he not only recorded a studio version, but he also cut a version at the BBC for a radio session. This BBC version would be used as the soundtrack to the short promo film 'Love You 'Till Tuesday'. Is it a song for children, or just a child. Bowie sings as though he were a child and would have been this album's 'Laughing Gnome'.
Ching-A-Ling – For a short time in 1968, Bowie was part of a folk trio with Hermione Farthingale (his girlfriend at the time) and initially Tony Hill who was soon replaced by John 'Hutch' Hutchinson. The only known studio recording session completed by the band was 'Ching-A-Ling' which producer Tony Visconti had booked without the approval of Bowie's management as a way of getting a record contract. As it was, it didn't. Bowie would record another demo in 1969 but that would be the last time he revisited the song.
Love All Around – A lovely Bowie melody that seems to be a love song, but some of the lyrics in the chorus are a bit hard to hear due to his enthusiastic strumming. This causes the recording to become a bit distorted in places.
The Mirror – Bowie spent time studying mime with Lindsey Kemp and this would be a source of income for him between 1967 and 1969. Kemp asked Bowie to write some songs for a show he was putting on called 'Pierrot in Turquoise' and this is one of those songs. The only known recording of these songs date from 1970 when the Pierrot show was broadcast on the BBC under the title of 'The Looking Glass Murders'. These date from the time period of the second Deram Album and one of the songs, 'Threepenny Pierrot' was re-written to be London, Bye, Ta, Ta.
Karma Man – Bowie had been studying Buddhism since the mid 60s and this song looks at a man who sits crossed legged with all of his world possessions on him. That being his clothes and beads. Could it be Bowie commenting on capitalism or just putting forward what he had seen from his studies of Buddhism? This song looks to have taken inspiration from Syd Barrett without sounding too much like the one time Pink Floyd front man.
Love Song – When Hermione Farthingale broke up with Bowie and left Feathers, he and 'Hutch' Hutchinson continued to record demos and play the odd gig together. When they recorded a demo tape, it included a number of Bowie originals as well as a couple of covers. Bowie would include covers in a number of his early 70's LPs including this song. Love Song written by Lesley Duncan; who the musicians can be heard talking about at the beginning of the song as she was a back-up singer for Dusty Springfield at that time.
Life Is A Circus – Another song from the Feathers demo tape. This was originally recorded by an obscure folk group called Djinn. Bowie may well have come across them as Djinn had asked Tony Visconti to be their producer. It would be this demo tape that secured Bowie a contract with Mercury Records.
Let Me Sleep Beside You – A blatant attempt at a hit single, and would have made a good A-side so it keeps that position here. Artists didn't always put singles on their albums in the 1960's. With some suggestive lyrics about a girl now being a woman, this was rejected by his label because of the song's message. Strange as this was the label that in January 1967, had allowed The Rolling Stones to release "Let's Spend the Night Together'. I suppose the difference being that the Stones sold a lot of records and Bowie, at this stage, had not.
Columbine – Another song from the 'Pierrot in Turquoise' project.
In The Heat Of The Morning – One of the songs put forward by Bowie to Dream as a potential single. This was one of the first recordings Bowie made with Tony Visconiti and this, like 'Let Me Sleep Beside You', was Bowie looking for a more commercial sound. Deram were not impressed though and the working relationship between the label and Bowie came to an end.
April's Tooth Of Gold – A song detailing young people and their interesting fashion sense and the older generation not having a clue as to what is going on. The characters and language used may well have been out of date by the time of the second album sessions, so relegation to a B-Side would have been a fitting home for it. The strumming is a bit reminiscent of Autumn Almanac by The Kinks.
The release of 'Conversation Piece' in 2019 shows the leap that Bowie made between his two self titled albums was not as great as would first appear. With the demos opening a door on a songwriter honing his craft, would a second Dream album have allowed Bowie the development time to make that leap? Maybe, maybe not.
Some of Bowie's earlier material can be heard on the Songs of David Bowie podcast. http://www.thesquirepresents.co.uk/episode-87-the-songs-of-david-bowie/
Side 1
London, Bye, Ta Ta – 1
Mother Grey – 2
The Reverend Raymond Brown (Attends The Garden Fete On Thatchwick Green) – 2
Goodbye Threepenny Joe – 2
Angel, Angel, Grubby Face – 2
When I'm Five – 1
Side B
Ching-A-Ling – 2
Love All Around – 2
The Mirror – 3
Karma Man – 1
Love Song – 2
Life Is A Circus – 2
Singles
Let Me Sleep Beside You – 1
Columbine – 3
In The Heat Of The Morning – 1
April's Tooth Of Gold – 3
Key
1 – Taken from David Bowie (1967) Deluxe Edition
2 – Taken from Conversation Piece
3 – Demo from Looking Glass Murders (Currently Unreleased)
The cover of this compilation is adapted from The Dream Anthology release from 1997.
Due to the still unreleased nature of some of these songs, it has not been possible to produce a Spotify playlist