Deutschland 83 – Original Soundtrack (German Language Edition)
One of the few bonuses of being in lockdown is that I have actually had the time to catch on TV I have been meaning to watch for what seems like years, as well as discovering shows I have never heard of. One of these is Deutschland 83, set during the final years of the Cold War but with a plot that could turn the situation very hot. The programme follows the adventures of Martin Rauch, an East German border guard who is sent into West Germany as an undercover agent in the role of an aide-du-camp to a West German Major General. They may speak the same language, but East and West Germany are two very different places. Check it out, and the follow up Deutschland 86. They are well worth your time. 
Not only does the programme transport the viewer back into time with the visuals, the person responsible for the music did a fantastic job. What we, the viewer get, are a smattering of classic 80s pop tracks from English speaking countries, there are also a sprinkling of tracks from German bands from both sides of the Iron Curtain. I thought about putting together a single disc vinyl LP, as this was the dominate format at the time but once I started looking at the songs in the series, I realised there was enough material for the German artists have an album all to themselves. So let's take a dive into who these artists are.
Peter Schilling – Part of the German New Wave (Neue Deutsche Welle), and one of the most commercially successful. Major Tom (Coming Home) was his first single and after it was a big hit throughout Europe, he re-recorded it in English. This became a top twenty hit in the USA and number one in Canada. Not such a bit hit the UK with it failing to break into the Top 40. The TV Show uses this in English speaking markets as the theme song, but I decided to use the original version which is not heard in the programme as Germany used 'Blue Money' by New Order in their opening credits.
Puhdys – One of the most successful rock bands to come out of East Germany, they have sold over 20 million records. Their style in the early days was compared to Western rock bands but on Sehnsucht, they sound like the 80s has caught up with them. A bit more pop than rock.
Berluc – Another band from East Germany. This song is perfect for the time the show it was set as it pleads for no bombs of a nuclear variety being dropped so there is no radioactive fallout. It also references the President of the USA at that time, Ronald Reagan who was an actor before he went into politics.
City – The third East German band on this compilation, the song Am Fenster was voted in 2019 as the best song ever to come out of East Berlin. They were so popular that even during the Cold War, they were selling records in West Germany.
Nena – The only artist on this compilation I had heard of before I saw the show. I only knew her for '99 Red Balloons', of which the German language original is selected here. Both versions deal with the end of the world through warfare, with the cause of all the hostility being the release of balloons into the air which are mistaken for enemy hostility, even though in the German version the balloons are misidentified as a UFO.
Joachim Witt – Another artist associated with the German New Wave, Witt has had commercial success but he has mostly produced music that has been described as challenging as well as making music videos that have been controversial. See the video to the song 'Gloria' to see what I mean.
Ideal – Hailing from West Berlin, Ideal were another German New Wave band. Their self titles debut album was the first independent LP to achieve a Goal Disc in Germany. The band records three studio albums before deciding to call it a day with the release of a live record in 1983.
Fehlfarben – Their debut album 'Monarchy & Everyday Life' is seen as one of the key releases in the German punk movement. Ein Jahr was released as a single and all sorts of early 80s influences are in here, included punk, ska and a bit of disco.
Ute Freudenberg – Another song considered a classic of East German pop, the title translates as childhood love and describes the love of two teenagers who meet many years later to reminisce on that time.
Side A
Major Tom (Völlig Losgelöst) – Peter Schilling
Sehnsucht – Puhdys
No Bomb – Berluc
Am Fenster – City
Side B
99 Luftballons – Nena
Goldener Reiter – Joachim Witt
Keine Heimat – Ideal
Ein Jahr (Es Geht Voran) – Fehlfarben
Jugendliebe – Ute Freudenberg & Gruppe Elefant
Even though the majority of the artists included on this compilation were from West Germany, I thought it would be more fun to release it through the Amiga label, which was based in the East. The company logo has been added in the bottom right of the sleeve. The covers that Amiga were producing in 1983 were very basic, with a picture of the artist. Being as this is a various artists soundtrack, a picture of the star of the show would be perfect, even though a Walkman (which is what the actor is holding in his hand) would, I suspect, not been an item everyday East Germans would have known about, let alone seen.
The cover is taken from https://mrspeabodyinvestigates.wordpress.com/2016/02/14/deutschland-83-series-review-my-take-as-a-germanist-and-fan/, but I changed the logo at the top to the one used in the TV show.
Deutschland 83 – Original Soundtrack (English Language Edition)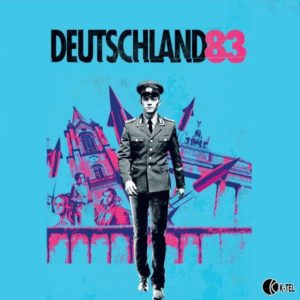 Well, having created a soundtrack to Deutschland 83 with only German recordings on it, I thought it would be interesting to create another playlist made up of English language artists. There was a lot more choice with the material for this compilation and I was tempted to make it a double, but I felt that a single set would have been truer to what would have been released if this had really come out in the year 1983. The album once again starts of with Peter Schilling singing 'Major Tom (Come Home)' as it is used on the version the programme I saw. On this occasion, the vocals are in English.
Nothing is too out of the ordinary here, with the majority of songs being quite well know. The only obscurity would have been 'Berlin' by Fischer-Z, a group that was the creative project of singer and guitarist John Watts. Two songs from their 1981 album 'Red Skies Over Paradise' were used in Deutschland 83. The parent album would also make the top ten in Germany and they were more poplar there, and in the Netherlands than their home country of the UK. I decided to put this in instead of something more well known as these soundtracks always seemed to include a song or two by bands that were not that well known, and also because the song deals with subject matter that relates to the TV series more than the other included here.
What surprised whilst putting this soundtrack together was how many songs were used in the show there were that were released after 1983. It does annoy me some what when songs are chosen for time specific films and TV programmes and the material they chose comes after that time. It just smacks of laziness, going for the more well known instead of being historically accurate.
Side A
Major Tom (Coming Home) – Peter Schilling
Sweet Dreams (Are Made of These) (Single Version) – Eurythmics
Maniac (Single Version) – Michael Sembello
She Works Hard For The Money (Single Version) – Donna Summer
Berlin – Fishcer-Z
Break My Stride – Matthew Wilder
Side B
Club Tropicana – Wham!
The Safety Dance (Single Version) – Men Without Hats
Rio (Single Version) – Duran Duran
(Keep Feeling) Fascination – The Human League
Automatic – The Pointer Sister
Steppin' Out (Single Version) – Joe Jackson
The artwork as taken from https://www.rtbf.be/emission/series-corner/detail_deutschland-83-la-serie-d-espionnage-allemande-qui-nous-plonge-en-pleine-guerre-froide?id=10666835 and I added the logo of K-Tel logo as they were the masters of compilation albums in this period before the 'Now' series albums was launched at the end of 1983. Where there was a shorter single version of a song, I have included that version because K-Tel would wanted to have squeezed as many songs onto their compilations as possible.