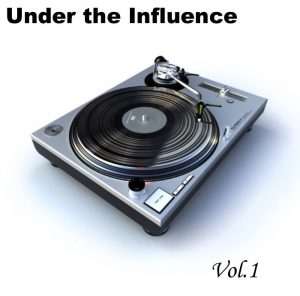 Back in the early years of the 21st Century, there was a short lived series of compilation albums where each track was selected by a band or artist to showcase the music that influenced their own work. In response to this, I thought I would put my own series of compilation CDs together which would showcase a particular style of music that could be said to be very influential. On this volume, I focused on music that could be classed as funk and soul as well as being from (but not exclusively limited to) the 1970's. Judging by the tracks on this first one, Rap, Hip-Hop, R&B etc could be said to have been influenced by what is on this compilation. There are also numerous samples taken from these tracks. I did a slight edit with track 1, 'What's Going On' by Marvin Gaye as I took the introduction from the original album version and edited it to flow into the single mono mix. The single mix had a bit more punch for me (as well as distinctive fake ending). The second disc opens with 'Ike's Rap' by Isaac Hayes, which I changed slightly so it fades in. The third disc concludes with 'Inner City Blues', which finishes with reprise of 'What's Going On', brining the compilation full circle.
Disc 1
What's Going On – Marvin Gaye (Squire mix)
The Boss – James Brown
I Can't Stand The Rain – Anne Peebles
Kissing my Love – Bill Withers
California Soul – Marlena Shaw
The Message – Cymande
Do The Funky Chicken – Rufus Thomas
Watts Breakaway – Johnny Otis Show
Shack Up (Part 1) – Banbarra
I Got The – Labi Siffre
Apache – Michael Viners Incredible Bongo Band
I Just Want To Celebrate – Rare Earth
What A Man – Linda Lyndell
Be Thankful For What You've Got – William DeVaughn
Baby Let Me Take You (In My Arms) – The Detroit Emeralds
Hercules – Aaron Neville
Get Up & Get Down – The Dramatics
Supernatural Thing – Ben E. King
Higher Ground – Ellen Mcillwaine
Move On Up (Album Version) – Curtis Mayfield
Disc 2
Ike's Rap – Isaac Hayes (Squire Mix)
Woman Of The Ghetto – Marlena Shaw
The Payback – James Brown
Respect Yourself – The Staple Singers
S.O.U.L. – Burning Spear
Are You My Woman (Tell Me So) – The Chi-Lites
Wicky Wacky – The Fatback Band
Everyman – Double Exposure
Hot Pants Road – The J.B.'s
Family Tree – The Family Tree
Ready Or Not Here I Come (Can't Hide From Love) – The Delfonics
Back Stabbers – The O'Jays
Itch & Scratch (Part 1) – Rufus Thomas
I Think I'd Do It – Z. Z. Hill
Cramp Your Style – All The People
Summer Madness – Kool & The Gang
Just My Imagination (Running Away With Me) – The Temptations
Inside My Love (Album Version) – Minnie Ripperton
I Forgot To Be Your Lover – William Bell
I Can't Write Left Handed – Bill Withers
It's A Shame – Detroit Spinners
Disc 3
Right On For The Darkness – Curtis Mayfield
Funky President (People It's Bad) – James Brown
Cross The Track (We Better Go Back) – Maceo & The Macks
Down On The Avenue (Slow Ride) – Fat Larry's Band
The Bottle – Gill Scott-Heron & Brian Jackson
We Are Neighbours – The Chi-Lites
Low Rider – War
Sing A Simple Song – Please
Get Me Back on Time – Wilson Picket
Do The Funky Chicken (Part 2) – Rufus Thomas
Chicken Yellow – Miami
Express Yourself – Charles Wright & The Watts 103rd Street Rhythm Band
Born to Live With Heartache – Mary Love
Impeach The President – The Honeydrippers
I Walk On Gilded Splinters – Johnny Jenkins
Mighty Mighty Spade & Whitey – The Impressions
The Assembly Line – The Commodores
Inner City Blues (Make Me Wanna Holler) – Marvin Gaye
A play list could not be completed for this compilation due to the unavailability of one on more songs on Spotify.