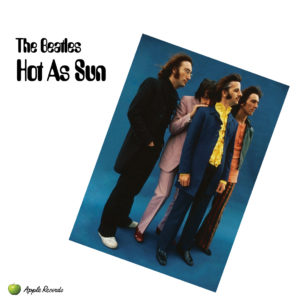 2021 has been a busy year for Beatles related material. There has already been deluxe box sets of Lennon's 'John Lennon/Plastic Ono Band' LP as we as Harrison's 'All Things Must Pass'. Ringo Starr has released two EPs of new material where as McCartney has seen the release of 'McCartney III Imagined' album. There is even the forthcoming 'Let It Be' reissue and 'Get Back' TV show to look forward to. Beatles fans have needed very deep pockets to pay for all of this.
With 'Let It Be' the last album The Beatles released which contained new material, there has always been speculation of what another album by the band would have sounded like if they had stayed together. I had a look at what The Beatles back catalogue could have been like if they had not split up in 1970, and continued on until the mid part of that decade when Lennon decided to help raise his second son, Sean. Well, with the release of the aforementioned 50th anniversary editions of Lennon's 'John Lennon/Plastic Ono Band'; and Harrison's "All Things Must Pass' album, I thought it would be an opportunity to look at this subject again, but from a slightly different perspective. Where as before, I compiled a series of double albums including singles and EP releases from the releases the solo Beatles put out between 1969 and 1975, this one will concentrate on 1970 alone. First, a little bit of history.
The break up of The Beatles can most probably be traced back to the unfortunate death of their manager, Brian Epstein in 1967. Lennon is quoted as saying that the band were in trouble as soon as this happened as he did not have any misconceptions about their ability to play anything other than music. This would turn out to be true. Even though the overall standard of music did not drop, inter band relations started to deteriorate as personal interests and business ventures took over. These included:
1. Apple. The Beatles as businessmen, maybe not their best idea. Encompassing everything from music publishing, computers, electronics, retail and a record label, the company was run by members of the bands entourage regardless of their experience or capabilities. Harrison would say later "Basically, it was chaos … John and Paul got carried away with the idea and blew millions, and Ringo and I just had to go along with it."
2. Recording of 'The Beatles'. Tensions in the studio ran high as the band recorded the follow up to the 'Sgt. Peppers' album. At one point, Ringo Starr left the band for two weeks. Lennon lost interest with working with McCartney feeling that the laters material such as 'Ob-La-Di, Ob-La-Da' was nothing more than "Granny music shit". The group also stopped working as a band. Essentially this album was collection of songs by individuals which just happened to have the other Beatles on them essentially serving as nothing but backing musicians. Lennon also started to bring avant-garde artist Yoko Ono to sessions, breaking the unwritten rule that wives and/or girlfriends were not allowed in the studio.
3. Not taking a break after the recording of 'The Beatles'. The original plan for the 'Let It Be' film was to use the material recording for the 1968 "The Beatles' LP, but this did not last as it was suggested it should be a record of new material. There was only a three month break between the end of the sessions for 'The Beatles' and work starting on what would become the 'Let it Be' album. The band had a bunch of new songs they had been working on but few were in anything like a competed state. Lennon had also acquired a heroin addiction and both he and McCartney were dismissive of Harrison's material. It would be Harrison's turn to leave the band for a short time during these sessions.
4. Allen Klein. McCartney and the rest of the band disagreed on who should represent the bands' business affairs. McCartney wanted to appoint Lee and John Eastman, his brother and father in law. The remaining Beatles wanted Allen Klein. McCartney lost the vote by three to one.
5. Lennon himself. On 20th September 1969, Lennon announced to the other members of the band that he was going to leave The Beatles, but this information was not made public as they did not want to hurt sales of the their forthcoming album.
6. Phil Spector. McCartney had wanted the 'Let It Be' sessions to be a back to basics recording after the amount of time the band had spent recording their previous couple of albums. Initially called 'Get Back', the original mix was a rough a ready affair with snippets of songs ('Save the Last Dance for Me'), jams ('Dig It' & 'Rocker') and other that break down during a take ('I've Got a Feeling'). This was rejected and Phil Spector was brought in to finish the record off for release. He edited songs and added orchestration which McCartney objected too. When his demands for these alterations to be removed were ignored, he announced his departure from The Beatles. Unlike Lennon's, this announcement was released to the public.
This is a very brief run down of why The Beatles broke up. The accepted narrative has been that that 'Abbey Road' was the band attempt to go out on a high, because each of them knew that the band would not be able to function as a unit for too much longer. This was until a tape was brought to light by author Mark Lewisohn in 2019. The tape was recorded in September of 1969, and it was recorded by Lennon, McCartney and Harrison as they met up at the Apple offices in Saville Row to discuss the recording of their next album to follow on from 'Abbey Road'. The tape was made for the benefit of Ringo Starr who could not make the meeting due to being in hospital at the time.
Lennon laid out the approach for the next album which is where he, McCartney and Harrison would each have four songs on the album, credited to them alone. It would seem that the days of the Lennon-McCartney credit on the records was over. Starr would have two songs on the record if he wanted them. There should also be a single out for Christmas. Tensions are evident on the discussion as McCartney states that he did not think Harrison's songs were very good until 'Abbey Road'. Lennon retorts that no one seemed to be a fan of 'Maxwell's Silver Hammer' and that songs like that should be given to artists outside of the group. This meeting occurred on 8th September and has already been noted, Lennon decided to leave on 20th. However, what would have happened if Lennon had decided not to leave and all the other bits and pieces that had gone on since Epstein's had not derailed what is arguably the most influential band of all time? Well, he is another attempt following the template laid down by Lennon on the 8th September tape.
In some respects, this is quite easy. Both Lennon and Harrison released great albums in 1970. McCartney also released an album so having four songs from each is quite straight forward. The issue is with Ringo. He had normally had one vocal spot on each Beatles album (the exceptions being 'A Hard Day's Night' and 'Beatles For Sale'), but had not been one for writing songs in his own right. Even though he did compose 'Don't Pass Me By' which would be released on 'The Beatles' in 1968, the songs had been written as far back as 1962. Before this, there was 'What Goes On' from 'Rubber Soul' and after this, 'Octopus Garden' from 'Abbey Road'. After The Beatles split, his first two albums, both released in 1970 would be made up of covers. It would take unit 1973 for an album of original material to appear, and even then, half of the tracks were not written by Starr. His first song to be released as a single that was not a cover was 'It Don't Come Easy' which did not come out until 1971 so is out of the scope of this album. So what are we left with from Starr? One song and that is 'Coochy Coochy' which was originally released on the B-Side of his debut singe, 'Beacoups of Blue'. 
For the other three, McCartney is also limited in what I can use. His first solo album was criticised for being under-produced and unfinished. There was a good deal of instrumentals on this album and critics noted that apart from 'Maybe I'm Amazed', the material appeared to be below the standards he had set during his time with The Beatles. Having listened to it again in preparation for this project, these criticisms seem justified. This is especially true when you compare it to the albums Harrison and Lennon would put out later that year which in my opinion are classics. What McCartney's and Lennon's albums have in common though is the striped back nature of the recordings.
McCartney pretty much recorded the album on his own, where as Lennon employed only two other musicians for the majority of the recordings. 'John Lennon/Plastic Ono Band' may have been a Phil Spector production, but the trademark Wall of Sound was absent here. However, it was there in abundance on Harrison's 'All Things Must Pass'. With the release of the Super Deluxe Edition of this album in 2021, the archives were well and truly opened with a staggering amount of unreleased material coming out. These recordings tend to be a bit more basic than those on the original album, so taking these along with the albums from Lennon and McCartney, this could have been the stripped down album 'Let It Be' could have been.
The majority of the songs came out on those solo albums even though Ringo's song was a B-Side. However, there was one demo that was on 'All Things Must Pass' which fitted in quite nicely and that was the demo of 'Woman Don't You Cry'. This song would eventually see the list of day as the opening song for the 1976 album, 'Thirty Three & a Third'.
Side A
Every Night – Paul McCartney
I Found Out (Take 1) – John Lennon
Coochy Coochy – Ringo Starr
Apple Scruff (Day 1 Demo) – George Harrison
Maybe I'm Amazed – Paul McCartney
Love (Elements Mix) – John Lennon
Side B
That Would Be Something – Paul McCartney
Look At Me (Elements Mix) – John Lennon
Run Of The Mill (Day 2 Demo) – George Harrison
Woman Don't You Cry (Take 5) – George Harrison
Working Class Hero (Take 9) – John Lennon
Isn't It A Pity (Take 27) – George Harrison
Junk – Paul McCartney
This playlist only covers the album. What of the single Lennon mentioned should be out for Christmas 1969? There aren't too many candidates for this. The band could have released another single from the 'Let It Be' sessions as a way of previewing the album. 'Let It Be' itself, which did not come out in 1970 could have been brought forward. 'You Know My Name (Look Up The Number)' could still have been the B-Side. McCartney did not release a solo single until 1971 and Harrison would not release one until the recording of 'All Things Must Pass. Only Lennon had something in the can in the shape of 'Cold Turkey', which could have been used, even though a different B-Side would have been required. That is because the original B-Side was "Don't Worry Kyoko (Mummy's Only Looking for Her Hand in the Snow) which was written by Yoko Ono. There were plenty of songs the band demoed during the this that could have finished off and recorded such as 'Child Of Nature', 'Goodbye', 'Sour Milk Sea' or for something a bit more obscure, 'The Palace of the King of Birds'.
For the title of this album, I drew inspiration from the an article that appeared in a 1970 edition of Rolling Stone Magazine which talked about a Beatles LP you would never hear. The story went that the album was recorded but the master tapes had been stolen. This album was to be known as 'Hot As Sun', a track that had appeared on McCartney's debut album. The story itself was a complete fabrication. The cover itself was found on the internet but I did not make a note of where it came from so I am afraid I cannot give a credit to the person who created it.