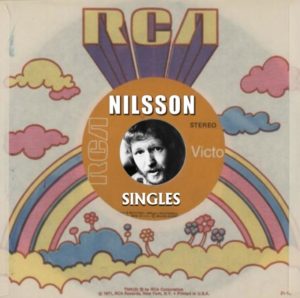 For those who have been following the musical adventures of the Squire down the years will know that I am a big fan of Harry Nilsson. Not only have I produced a couple of Lost Album compilations entering on covers of the great man, I also produced a couple of podcasts. It was due to these podcasts that I was contacted by author Neil Watson who was putting together a book about Nilsson called 'Harry & Me'. In the words of the author himself "HARRY AND ME is a collection of stories by Nilsson's fans and people who knew him, going some way to explaining why this unique musician who never toured or gave concert performances managed to elicit such intrigue and adoration from his fans, friends and collaborators".
Anyway, I was asked to contribute to the book and in doing so, I started to play my old Nilsson records and thought it was about time I put together some fantasy releases for him. The first of these is dedicated to singles that Nilsson released under his own name. This does not cover all of the singles he released during his lifetime, but they will be covered on a future compilation. To introduce this compilation, I feel that a short history of Nilsson is in order.
Nilsson signed with RCA Victor in 1966 as a performer and released his first album a year later. However, Nilsson had been on the fringes of the music scene for a number of years beforehand. He formed a duo with a friend of his singing songs in a style reminiscent of the Everly Brothers. This in turn lead him to be contracted to songwriter Scott Turner to sing on some demos he had written. This in turn lead him to work with John Marascalco, who financed some singles that were released on small, independent labels. The first of these would be 'Baa Baa Blacksheep' and this came out in 1963. More singles would follow released under pseudonyms such as Johnny Niles and Bo-Pete, but these will not be included here as I am just including singles related under his own name. Some local airplay was secured but success eluded him.
By 1964, he was working with Phil Spector and even though some of their songs were recorded, some did not see the light of day until they were put out on some archival releases years after the event. It was around this period that he started working with songwriter and publisher Perry Botkin who started to plug his clients songs. He also became friendly with composer and arranger, George Tipton who financed some Nilsson recordings which they were able to place with the Tower record label, a subsidiary of Capitol Records. These singles were collected together to form the basis of Nilsson's debut album, 'Spotlight on Nilsson'. All through this period, Nilsson was not only writing and recording, he also held down a full time job as a computer programmer in a bank. This was all to change once he placed the song 'Cuddly Toy' with the The Monkees. Well, that and the fact members of The Beatles started name dropping him in interviews.
Nilsson only performed in a live context (mostly for TV shows) a few times during the very early years of his signing to RCA, and realising that he didn't like the experience, he decided to focus on producing his material in the studio. Nilsson is therefore one of the few artists who have been commercially successful without going out on tour.
Nilsson would hit his commercial peak in 1971 with the release of the 'Nilsson Schmilsson' album that included on it his biggest hit, 'Without You' on it. After that, Nilsson would follow his muse by recording a standards album, 20 years before anyone thought it was actually a good idea. He appeared in a really seen film made by Ringo Starr called 'Son of Dracula' and then got together in the studio with John Lennon to record the 'Pussy Cats' album, which was recorded at a time when the pair were getting drunk and misbehaving in Los Angeles. This period has been retrospectively called Lennon's Lost Weekend period. The sessions would also see Nilsson rupture his vocal cords and instead of resting them, he carried on. You can clearly hear Nilsson struggling to sing on some of the songs and there are some who say his voice never recovered from the sessions.
The albums that followed 'Pussy Cats' had their moments, but there was too much filler compared to his earlier releases. There was a concerted effort in 1977 to promote the 'Knnillssonn' album, but it was released around the time Elvis Presley died so RCA focused on making sure there was plenty of stock for the King's in the record store. This was to the detriment of Nilsson and this was his last album for RCA. Nilsson would only complete two more records in his lifetime. 1980s 'Flash Harry' and the soundtrack to the Popeye film in 1981. After that, Nilsson focused much of his time on promoting gun control in response to the killing of his friend John Lennon. There would be the odd single released, a musical based on the life of Emiliano Zapata and an attempt at one more record which was left unfinished by the time Nilsson died in 1994.
This will be the first in a series of What-If complication and is not a greatest hits or best of package but it would also need to be a double album to fit all of the records onto it. This contains all of the single mixes and exclusive B-Sides that was released under the Nilsson name. It includes all of his pre RCA released singles as well as a smattering of rarities, such as the promo single that was recorded with Cher. Her version of 'A Love Like Yours (Don't Come Knocking Everyday)' was produced by Phil Spector, with Nilsson claiming that the backing track was meant to have been used on John Lennon's 'Rock n Roll' album. The song would also appear on the Warner Brothers sampler album 'Burbank's Finest 100% All Meat'. There is also the single 'Please Mr Music Man' which was recorded back in 1962 as part of the work he did for Scott Turner. These sessions had only been Nilsson singing over a guitar backing track but by the time this single was released in 1977, backing musicians had been dubbed on to the tapes. His last single was the song 'How About You' which was recorded for the film, 'The Fisher King'.
The sleeve for this compilation is based around the RCA company sleeve that was used when Nilsson released his 'Daybreak' single, with added graphics as well as a picture of the great man where the record centre should be.
Side A
Baa Baa Blacksheep
Baa Baa Blacksheep (Part 2)
Sixteen Tons
I'm Gonna Lose My Mind
Donna I Understand
Wig Job
You Can't Take Your Love (Away For Me)
Born in Grenada
Side B
She's Yours
Growin' Up
Sister Marie
Mournin' Glory Story
Rainmaker
I Will Take You There (Single Mix)
Waiting
Side C
Buy My Album
Down To The Valley (Single Mix)
Jump Into The Fire (Single Mix)
Joy (Japanese Single Mix)
Daybreak (Single Mix)
A Love Like Yours (Don't Come Knocking Every Day (Promo Single)
Please Mr. Music Man
Side D
Ain't It Kinda Wonderful
With A Bullet
Judy
Loneliness
Silver Horse
How About You (Single Mix)
If you are interested in buying a copy of the book, it can be purchased by following either of these links.
https://thisdayinmusicbooks.com/product/harry-me/