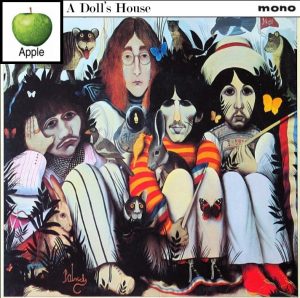 Here is the first of a number of Beatles related posts I've prepared, and this is a concept that is neither new, nor original, but it is one I had never thought about until a friend asked me what would be my track listing for a one disc 'White Album'. The band's producer was in favour of a single album at the time but was over ruled by the band. Maybe he was right, maybe he wasn't but what we are left with is an album that was the first to highlight that The Beatles were going in their own separate ways. It just took them another year and a bit to realise it. If the single album is to follow the rough template of the bands albums from Help onwards, that would mean one song sung by Ringo Starr, two by George Harrison and the rest would be Lennon and McCartney. Okay, Revolver had three vocal performances by Harrison, but Sgt Pepper only had one so it evens itself out there. So, what would make the cut on this new slimmed down version of the album?
Side 1
Back In The U.S.S.R.
Dear Prudence
Glass Onion
I'm So Tired
Blackbird
Savoy Truffle
Sexy Sadie
Happiness Is A Warm Gun
Side 2
Martha My Dear
Mother Nature's Son
Yer Blues
While My Guitar Gently Weeps
Julia
Long, Long, Long
Good Night
The record has to fit within the recording limitations of a single LP, so we are looking at about 23 minutes for each side. Even with those limitations, you certainly get your monies worth with this album as there is a total of fifteen songs. The first song could not be anything other than Back In The U.S.S.R. as it is the best side starting song on the original double. The segue into Dear Prudence works brilliantly as well. A more mellow effort after the upbeat first track. Glass Onion just sounds right as track three and is in the same place it was on the original album. The tempo slows down again with I'm So Tired before the folky Blackbird continues the mellow mood. We are brought out of this by the first Harrison song on the album; the upbeat soul inspired Savoy Truffle. It also includes a nice horn track that would become a feature of Harrison's solo work. We finish off the side with another two Lennon songs in Sexy Sadie and Happiness Is A Warm Gun
Side two kicks off with two McCartney songs in Martha My Dear and Mother Nature's Son, which wouldn't be the only songs to feature a sole member of the band. The guitars are turned up for the next two tracks with the bluesy Yer Blues and possibly George Harrison's greatest song whilst in The Beatles, While My Guitar Gently Weeps. We then have a bit of whimsy from John Lennon with Cry Baby Cry with the hidden track Can You Take Me Back still there leading nicely into Long Long Long. We end with the Starr sung, but Lennon written Good Night. Not the best song on the White Album, definitely not the worst but better than the Starr original Don't Pass Me By.
The tracks that didn't make the cut were cut in my opinion, for good reasons. Either I didn't like them or they were not as good as the ones I kept. The break down is seven sung by Lennon, four by McCartney, three by Harrison and one by Starr. I suspect there will be those who will say that their version would look nothing like this, but as this is another of those What-If's. Someone else will no doubt come up with a different track listing that for him or her, is better. For my money though, this is a pretty good album.
The artwork is taken from one of those in consideration when the album was going to be called A Doll's House, but was eventually used on the compilation Beatles Ballads. I also used the mono mix of the album, as this was the last Beatles album to have a dedicated mono mix, but it is possibly the least known version of any Beatle album.
You can hear the playlist below, but not in mono I'm afraid. Annoyingly, Spotify only has the Stereo mix of the album available at this stage.