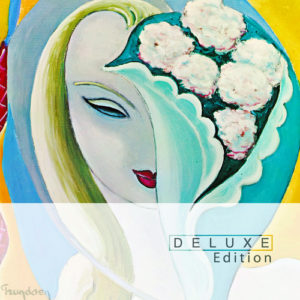 Derek and the Dominos are one of those bands that are forever associated with one song; Layla. I suspect most people will think that it was originally an Eric Clapton solo track, but I digress. It is a rock classic but there is so much more to this group than that one song. The four members would meet whilst they were in the backing band of Delaney and Bonnie, who were the support act for Blind Faith, the band Clapton was in after Cream split. The Delaney and Bonnie band would back Clapton on his 1970 solo album but would split up due to all sorts of cliché band related nonsense. Clapton would recruit keyboard/guitar player Bobby Whitlock, bass player Carl Radle and drummer Jim Gordon to back singer P. P. Arnold on some sessions (which would only see the light of day in 2017 on an album called 'The Turning Tide') and then they were pretty much the backing band for George Harrison on his 'All Things Must Pass' album. The band recorded their first single during the 'All Things Must Pass' sessions, with Harrison and Dave Mason (formally of Traffic) joining them. The single did receive a limited release but was withdrawn due to Clapton feeling that it did not reflect their sound. That is not a bad collection of sessions to play on for a band who were not really a band at this stage.
With the band having completed a short UK tour and gaining a name, they decamped to Criteria Studios in Miami to record their classic album. The sessions got off to a bumpy start though as something was not quite happening as there was a spark missing. However, after being taken by legendary producer Tom Dowd to watch the Allman Brothers in concert, Duane Allman was invited to join the sessions and preceded to play on the majority of the album, giving it some fire and igniting Clapton to produce some of his best guitar work. What stands out for me about the Layla album is that it is one of the few records I can listen to all the way through without wanting to skip over a song. It sounds great and the songs are some of the best of Clapton's' career. He has never been the most prolific of writers but having a foil like Bobby Whitlock to work with him (in a way no one had done before or since) as well his burning desire for Patti Boyd, the wife of George Harrison ignited something that arguably has been lacking in his work ever since.
This album holds a special place in my musical journey as it one of the first albums that I bought on CD and even though I loved it, the edition I bought was the late 80s reissue, which used a less than stellar version of the record. It featured lots of background hiss, muddy sound and was one of many albums from that era that suffered from lazy record companies not looking for either the original master or multi track tapes. This was soon to be corrected but more on that later.
After a tour of the US, Bobby Whitlock recorded two solo albums, the first of which included performances from all of the Dominos. However, not one song has all four members of the band on it at the same time (which is a shame). Members also played on Dr John's 'The Sun, Moon and Herbs' album with all the Dominos performing on Familiar Reality (Reprise). The 'Layla' album had come out and not been the commercial or critical success that Clapton (as well as many others) felt it should have been. He was also rocked by the deaths of Jimi Hendrix as well as Duane Allman and he failed to get Patti Boyd to leave George Harrison.
When sessions started for the proposed second album, the drug taking (which was substantial whilst recording the first record) escalated and the relationship between Clapton and Jim Gordon collapsed. A number of songs were recorded but most were instrumentals and most lack the fire a greatness of what was recorded for the Layla album. The playing is still good but Clapton is missing a sparring partner (like Duane Allman) to bring out the fire in his playing. A good number of these second album songs have seen the light of day down the years, but there are still a number that remain in the vaults. Well officially anyway.
'Layla' has been reissued many times down the years and each reissue has had a number of tracks which have only been available on one of those versions. There was even a two disc 'Deluxe Edition' which was released in 2011 (which is where the artwork for this collection was taken from), but having looked at that track listing, I was sure I could do a better job. As with any 'Deluxe Edition', I did not change the songs on the first disc. The album is album perfect to my ears and it actually fills up a CD so I could not add anything even if I wanted to.
However, for my own listening pleasure, I used with the mix that was released for the 20th anniversary edition. Released in 1990, it could be considered to be the first Deluxe Edition of an album, as it contained jam sessions and album outtakes. The producers of that set also had access the vaults and went back to the original multi tracks. This version was superior to the one that had previously been released and included some bits and pieces not included in the original mix. Even though further reissues have superseded this, this is the version that was on heavy rotation on my CD player back in the day and the one I always come back to. It is a shame that it is not available to stream anywhere. 
With the second disc, this is not an attempt to construct a second LP as many have tried in the past. This is a showcase of what was left in the can. These include some songs that were written by Jim Gordon which sound unlike anything the band recorded. These are Jim's Song, 'Till I See You Again and It's Hard to Find a Friend. None of these have been officially released which is a shame, but seeing as 2020 is the 50th Anniversary of Layla, maybe this will be the time. Got to Get Better in a Little While appears twice. The version from 1988s Crossroads box set is a bonus track due to the unfinished nature of the recording. The 40th Anniversary box set contained a fuller version as Bobby Whitlock was brought in to record the keyboards and vocal parts that were originally missing. Sounds pretty good too.
Outtakes from the Layla sessions include a jam around the song (When Things Go Wrong) It Hurts Me Too, an incomplete master for a song called Tender Love (I do wonder if there was ever any lyrics for this song and if so, why wasn't it finished?) and two versions of a song called Mean Old World. A duet version is included as a bonus track and was released on a Duane Allman compilation in the 70s, but the band version goes better in the flow of the second disc. The Phil Spector produced single recorded during the All Things Must Pass album sessions is included, plus five completed masters from the abandoned second album sessions. Snake Lake Blues also appears in two versions. The major key version has been released before, but the minor key one has not (as yet). Both are used as a way of finishing off, either the second disc set or bonus tracks.
There is one more song to mention, the curiosity that is Devil's Road, which was recorded with vocals from female vocalist Rene Armando. Little information appears about her online, with some sites saying that she was married to Jim Gordon. However, she does not seem to have appeared on any other recording. This track was recorded in Eric Clapton's' home studio with only the guitar player and drummer on the original track, with keyboards and bass added on later. Were these performed by the other Dominos? No one is quite sure about this. I have included it because of when it was recorded, the personnel and the fact that Clapton is on fire with his playing.
Derek and the Dominos was the last time Eric Clapton was just a member of the band. After this, he would go out under his own name. It is such a shame that the Dominos did not finish their second album, or continue after that. They are one of the great-lost bands but at least they did leave us with one classic album. There aren't many bands who can claim that.
The artwork is the original album cover surrounded in a black background using a golden text. This mirrors the effect of the 20thAnniversary Edition that I liked so much.
Disc 1
I Looked Away (1990 Remix)
Bell Bottom Blues (1990 Remix)
Keep On Growing (1990 Remix)
Nobody Knows When You're Down & Out (1990 Remix)
I Am Yours (1990 Remix)
Anyday (1990 Remix)
Key To The Highway (1990 Remix)
Tell The Truth (1990 Remix)
Why Does Love Got To Be So Sad? (1990 Remix)
Have You Ever Loved A Woman? (1990 Remix)
Little Wing (1990 Remix)
It's Too Late (1990 Remix)
Layla (1990 Remix)
Thorn Tree In A Garden (1990 Remix)
Disc 2
(When Things Go Wrong) It Hurts Me Too (Jam)
Got To Get Better In A Little While (2010 Remaster)
Mean Old World (Band Version – 2010 Remaster)
Till I See You Again
Roll It Over (2010 Remaster)
Evil (2010 Remaster)
Tell The Truth (2010 Remaster)
Jim's Song
Tender Love (Incomplete Master)
I've Been All Day
It's Hard To Find A Friend
One More Chance (2010 Remaster)
Mean Old Frisco (2010 Remaster)
Devil's Road (Rene Armando Vocals)
Snake Lake Blues (2010 Remaster)
Bonus Tracks
Mean Old World (Duet Version)
Got To Get Better In A Little While (Crossroads Mix)
Snake Lake Blues (Minor Key Version)
Disc 1 was available on Spotify so I was able to include that here. I was not able to add a playlist for Disc 2 because one or more songs were not available on that platform (mostly due to the fact that they have not been officially released).