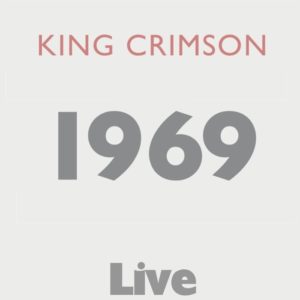 It is not quite true to say that King Crimson exploded fully formed out of nowhere, which the 'Complete 1969 Records' tries to put forward. Granted, the sound of Gile, Giles & Fripp is very different from what was to come, but with the song 'I Talk to the Wind', the progression was already in place. What King Crimson did that GG&F did not do was to take their sound out on the road. The band honed their craft in the basement of the Fulham Palace Cafe (on Fulham Palace Road), the first live shows were in February 1969 at the Change Is venue in Newcastle. Over the eleven months, the band would play the standard venues of the day including the Marquee in London, festivals and universities. This was before they set off for a a series of gigs in the USA which would bring tensions that had been bubbling under the surface to a head. By 14th December 1969 and their gig at the Filmore West, the original line up of King Crimson had disbanded. 
What we present here is a collection of live tracks that were recorded, mostly by fans in the audience of the first King Crimson line up. The fidelity of these recording sis not great, but it is fantastic that we have any at all and that they have survived. As King Crimson were keen to branch out with their playing, having a single disc set would not showcase the bands talents fully so I decided that a double would have to be complied. I also wanted this to be a mix of songs that had or would be recorded in the studio, as well as tunes that did not. There also needed to be a bit of editing here and there to make it sound as though all of these tunes came for the one gig, Enjoy.
Side A
A Man, A City – Live At The Filmore East* 
Epitaph – Live At the Filmore East
Side B
Get Thy Bearings – Live At Victoria Ballroom, Chesterfield 
Side C
Drop In – Live At Victoria Ballroom, Chesterfield
Mantra – Live At Victoria Ballroom, Chesterfield
Travel Weary Capricorn** – Live At Victoria Ballroom, Chesterfield
Side D
Mars – Live At Plumpton Racecourse (9th Annual Jazz & Blues Festival) 
I Talk To The Wind – Live At Victoria Ballroom, Chesterfield
21st Century Schizoid Man – Live At the Filmore East
*The gig announcement was taken from their set as one of the opening acts for the Rolling Stones at their Hyde Park gig, 5th July 1969.
** On the original, the segues in a passage of improvisation. Due to the time constraints of the vinyl format, this improvisation was cut and some audience applause from another performance added.
The cover is adapted from the protective sleeve that came with 2020's, 'Complete 1969 Recordings'.