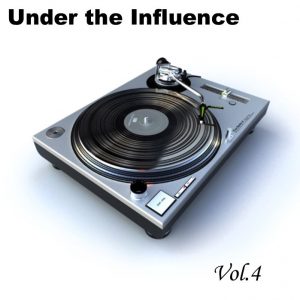 Here on the forth volume of my Under The Influence Series, the theme is Northern Soul. Time to relive the glory nights of the Twisted Wheel, Golden Torch, Blackpool Mecca and Wigan Casino.
Disc 1
Hold On To My Baby – The Cavaliers
Barefootin' – Robert Parker
In Orbit – Joy Lovejoy
I'm Satisfied With You – The Furys
Baby Reconsider – Leon Haywood
Cracking Up Over You – Roy Hamilton
Right Track – Billy Butler
Back Street – Edwin Starr
I Spy (For The F.B.I.) – Jamo Thomas & His Party Brothers Orchestra
The Blowing Up My Mind – The Exciters
I Need Your Love – The Dynamics
I'll Always Love You – The Spinners
Better Use Your Head – Little Anthony & The Imperials
I Really Love You – The Tomangoes
Slippin' Around With You – Art Freeman
The Same Old Song – The Olympics
Quick Change Artist – The Soul Twins
If It's All The Same To You Babe – Luther Ingram
I Gotta Find Me Somebody – Luther Ingram
Lay This Burden Down – Mary Love
Dance Dance Dance – The Casualeers
Thumb A Ride – Earl Right Orchestra
What Would I Do – The Tymes
You get Your Kicks – Mitch Ryder & The Detroit Wheels
You Just Don't Know – Chubby Checker
Dr. Love – Bobby Sheen
Somebody, Somewhere, Needs You – Darryl Banks
Ain't No More Room – The Kittens
Some Things Are Better Left Unsaid – Ketty Lester
Face Up To The Truth – Doris Troy
Gonna Gove You All The Love I've Got – Kimmy Ruffin
A playlist for this complication could not be produced due to one or more songs not being available on Spotify.
Disc 2
My Mama Told Me – Barbara Carr
Loving You – The Starlets
Talkin' Dreamin' Boastin' – Sugar Pue DeSanto
Love Reputation – Denise LaSalle
Such A Pretty Thing – Gene Chandler
Sweeter Than The Day Before – The Valentinos
Too Late – Larry Williams & Johnny Watson
This Love Starved Heart Of Mine (It's Killing Me) – Marvin Gaye
What Good Am I Without You – Darrow Fletcher
Sure Is A Lot Woman – The Isley Brothers
Let's Wade In The Water – Marlena Shaw
A Mighty Good Lover – The Vashionettes
If You Ever Get Your Hands – Gladys Knight & The Pips
Ain't No Sun (Since You Gone) – The Dynamics
Crying In The Night – The Monitors
Baby Come Home To Me – Shorty Long
Show Me The Way – J. J. Barnes
The Girl's Got It – Billy Preston
Come Go With Me – Gloria Jones
I'm Gone – Eddie Parker
Well Keep On Rolling – Brenda Holloway
Keep On Climbing – The Magnificent Men
Ain't No Soul (In These Old Shoes) – Major Lance
True Love – Alex Patto
Hold On – The Radiants
I'm Grateful – The Four Tops
All I Do Is Think About You – Tammi Terrell
What more Could A Boy Ask For – The Spinners
Don';t Stop – The Originals
I'll Never Stop Loving You – Carla Thomas
A playlist for this complication could not be produced due to one or more songs not being available on Spotify.