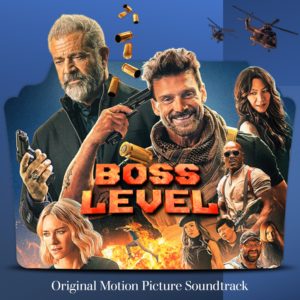 It is always nice to come across a gem of a film that I knew nothing about beforehand. One of those which I saw over the Christmas period was Boss Level. It doesn't have the most original of premise in that the hero of the film must relive the same day over and over again until he figures out what he needs to do to end this event from repeating itself. However, the action, acting and kick arse soundtrack made this 100 minutes of my time that I did not feel was wasted. Time being the operative word here because the majority of the songs on this soundtrack are concerned with it.
Even though a soundtrack album was released for the music, this was the incidental music by Clinton Shorter. There wasn't one for the songs that were used throughout the movie so I thought I would put one together. This includes nineteen of the twenty songs included in the film. The only one missing is 'Sixties Airport Lounge' by John Plowright which does not seem to be available anywhere. There were enough songs for a short double album so so here it is, the soundtrack to Boss Level.
Side 1
Working For MCA – Lynyrd Skynyrd
Alcohol Part 1 – Robert Jay
Mean Little Mama – Roy Orbison
Time Has Come Today – The Chambers Brothers
Baby I Don't Care – Carl Mann
Side B
Burn Rubber On Me (Why You Wanna Hurt Me) – The Gap Band
Got My Mojo Workin' – Billy Adams
Slow Down – Jack Earls
Foreplay/Longtime – Boston
Side C
Fine Time – Genie Brooks
Fix Me – Black Flag
Destroy Everything – The Helltones 
That's Why I Love To Call His Name – Village Singers
Picking Tea Leaves & Catching Butterflies – Lily Chao
South American Getaway – Burt Bacharach
Side D
Turn Back The Hands Of Time – Tyronne Davies
I Want To Love You Baby – Peggy Scott & Jo Jo Benson
Victim Of Circumstance – Mike & The Censations
Day After Day – Badfinger
How Much Can A Man Take? – Big John Hamilton
Only Time Will Tell – Clarence Ashe
The artwork is taken from an image used to publish the film with some background added.