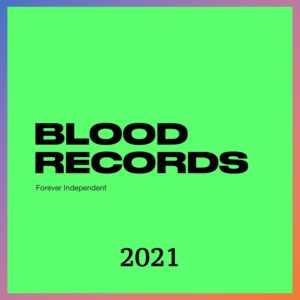 Happy New Year everyone. Between 2018 (when they released their fist disc) and 2020, Blood Records put out 29 records. In 2021, the released 33 showing that this particular label went into overdrive over the past twelve months. It also meant that this years sampler would be a much larger affair than the previous efforts. I was still keen for at least one song from each release and at one point, it looked as though there would be enough to have two double albums. As it is, the second double ended up being the third disc on what would be a triple LP as there just wasn't enough material for a second disc at a length I felt would have been acceptable (I know its a fantasy release).
With supply chain issues and released being pushed back because of it did mean that there were a number of records that did not drop through the door at Squire Towers before the end of the year. There are already fourteen discs that Blood Records have advertised in 2021 that will hopefully be handed over via my Post in the next few months.
One disc is missing form this list Halloweens 'Morning Kiss at the Acropolis' is not included as this was a straight reissue (albeit on a different coloured vinyl) for the version released last year.
The sleeve is one of the Blood Records logos taken from their Facebook page.
Side A
Keeper – Lonely The Brave
Lights On Baby – Halloweens
A Better Life – Stanleys
Too Good – Arlo Parks
Who Am I? – Pale Waves
Side B
Let The Music – Okie
I Like The Way You Die – Black Honey
All My Friends – The Obgms
Shipbuilding – Mystery Jets
Delicious Things – Wolf Alice
Side C
Gold Teeth – Warmduscher
Hey There – King Gizzard & The Lizard Wizard
Momentary – Low Island
Feelings I'm Supposed To Feel – Maximo Park
Side D
Trouble's Coming – Royal Blood
Soul Singer – Thom Southern
Monty Python – Connie Constance
Land Of The Lost – The Coral
Time – Only Sun
Side E
It Won't Always Be Like This – Inhaler
That Night – Stanleys
Clique – Yonaka (feat. Over 333)
Oh My Love – The Lathums
Undertaker (Fever 333 Remix) – Nova Twins
Melon & The Coconut – Glass Animals
Start Again – Rianne Downey
Side F
The Sum Of Our Fears – The Howlers
Stuck In Your Heard – Vistas
Bloodsports – Strange Bones
Jump Off The Top – The Vaccines
Nothing Is Gonna Change – Dead Nature
Something To Leave The House For – The Lottery Winners
I Never Get Lonesome – Courtney Barnett