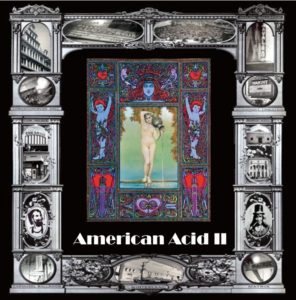 A second volume of songs from the late 60s US Acid Rock (sort of) scene. A few artists from the first volume make another appearance here as well as some well known faces that did not. There are also some obscure artists like Michelle proving that much like the UK psych scene, there was so much good music coming out at the time that some of it disappeared through the cracks. Enjoy.
Disc 1
Codine Blues – The Charlatans
Rag Mama Rag – The Band
Let's Work Together – Canned Heat
Combination Of The Two – Big Brother & The Holding Company
Omaha – Moby Grape
Superbird – Country Joe & The Fish
Live & Let Live – Love
Dark Star – The Grateful Dead
Sister Of Mercy – Leonard Cohen
Rainy Day Women #12 & 35 – Bob Dylan
Lemonade Kid – Kak
Red Balloon – Tim Hardin
Think Twice – Salvation
Domesday – Stained Glass
Guess Things Happen That Way – Terry Manning
The Pusher – Hoyt Axton
Free Up – The Surprise Package
Doodle – Skip Spence
Disc 2
Mercedes Benz – Janis Joplin
Evil Ways – Santana
Time Was – Canned Heat
Roll With It – The Steve Miller Band
California Earthquake – Cass Elliott
Electric Saiilor – Kak
8:05 – Moby Grape
Old Man – Love
Lie To Me – Kaleidoscope
Light Your Windows – Quicksilver Messenger Service
Summer In the City – The Lovin' Spoonful
Acid – Stu Mitchell With Wes Dakus' Rebels
War In Peace – Skip Spence
Song For A Seagull – Joni Mitchell
Forever Is A Dream – Food
Lonely People Blues – Gary Lee Yoder
White Bird – It's A Beautiful Day
Lament Of The Astro Cowboy – Michele
Good Vibrations (Tape Rewind) – The Beach Boys
Neither disc could be reproduced on Spotify.