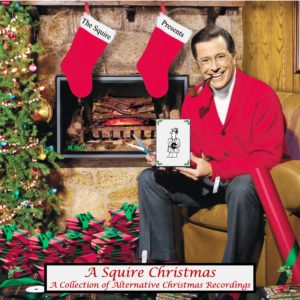 This time last year, I posted a compilation of what I would consider great Christmas records. Well, this year I've gone the other way and am posting a compilation of what can only be considered (at best) a collection of 'alternative' Christmas records. It's not to say that all of of these records are bad, but I doubt that any of these will be appearing on a 'Now That's What I Call Christmas Music' anytime soon. Some of these records are so obscure that I suspect that some of the people who have played on them don't want to admit to that fact, or at least. The sound quality on some of these records is not as pristine as I would like, but some of these recordings are on the obscure side so it was a case of using what was at hand.
Disc 1
1.Spike Jones & his City Slickers – All I Want for Christmas Is My Two Front Teeth (Gardner)
Spike Jones was a popular musician and bandleader specializing in performing satirical arrangements of popular songs. Ballads and classical works receiving the Jones treatment would be punctuated with gunshots, whistles, cowbells, and ridiculous vocals. Through the 1940s and early 1950s, the band recorded as Spike Jones and his City Slickers and toured the USA and Canada under the title 'The Musical Depreciation Revue'.
2. Gayla Peevey – I Want A Hippopotamus For Christmas (Rox)
Gayla Peevey was a popular child singer in Oklahoma and was only ten years old when she recorded this novelty Christmas record. The record was released by Columbia Records, and was a huge hit. The Oklahoma City Zoo capitalized on the popularity of the song for a fundraiser in 1953. Kids sent in their nickels and dimes (that's 5 & 10 cents to non Americans) as donations and helped to raise $3,000 to buy the zoo a baby hippopotamus, named Matilda. Unfortunately, Matilda died in March 1998 as she was being transferred to Walt Disney World. Gayla changed her name to Jamie Horton as a teenager, and in 1960 she recorded "My Little Marine," which reached #84 in the US charts.
3. Kay Martin & her Body Guards – I Know What You Want for Christmas (Unknown)
In the 1950 and 1960s, adult comedy recordings became widely available and very popular. Kay Martin and Her Body Guards was one such act, consisting of the eponymous Kay Martin together with Jess Hotchkiss and Bill Elliot. From 1953 to 1963, their popular, often risqué material received top billing in Las Vegas and Reno casinos and was in demand across the southern US. Their six live recordings became popular adult 'party' albums, often sold at the door after the shows. Their best known recording was the 1962 Christmas album "I Know What He Wants for Christmas… but I don't know how to wrap it!" Sometimes the record sleeve graphic would feature ex-model Martin but more often an anonymous glamorous young lady with very little clothing on. Sometimes there was an alternative R-rated "party" version with some 'disenrobement' (whatever that means) included. Needless to say, there is a lot of double entendre on these records.
4. Troy Hess – Christmas on the Moon (Hess)
Troy Hess has performed since he was 2 years old, appearing with such stars as Bob Wills, Ernest Tubb, Dolly Parton, Johnny Cash, George Jones and Tammy Wynette. His father, Bennie Hess, was a popular B-western movie actor and hillbilly singer in the 1940's. Bennie also ran his own record label and record plating plant as well as recording many early rockabilly acts. During the 1970s and 1980s, Bennie Hess devoted most of his time to promoting his son Troy, who he billed as 'America's Singing Souvenir,' and 'the world's youngest country and western singer.' Troy recorded his first record at the age of four and was quite popular at state and county fairs, as Bennie fronted the band acting as emcee for the shows, and sometimes even performing magic tricks. Some of the songs young Troy Hess recorded were "You Oughta See Pickles Now," "Troy Hess Boogie," "Please Don't Go Topless, Mother," and "Christmas on the Moon." It looks like Troy is still making music, but is not putting any of his efforts down on disc (as far as we can tell).
5. Lou Monte – Dominick the Donkey (Monte/Allen/Saltzberg)
Lou Monte, was an Italian-American singer best known for a number of best-selling, Italian-themed novelty records which he recorded for both RCA Records and Reprise Records in the late 1950s and early 1960s. This song tells the tale of Santa having to use a donkey to help him deliver presents in Italy because his reindeer can't climb hills and there was me thinking reindeer could fly. There was a campaign in 2011 to get this song to the top of the UK singles chart, but ultimately it peaked at number 3.
6. Reece Shipley – Can Santa Miss Those Missiles (Shipley)
Reece Shipley was a well-respected Country Swing and Rockabilly songwriter and singer. In the early 1950s, Shipley performed regularly on radio programs, such as WKPT's 'Saturday Night Hayride.' A wonderful example of what was being produced during the madness of the Cold War.
7. Lillian Briggs – Rock 'n' Roll-y Poly Santa Claus (Allen/Arthur)
In 1956, Rockabilly Bombshell Lillian Briggs released a song for the Christmas Holiday season, called "Rock 'n' Roll-y Poly Santa Claus." The song was co-written by Robert Allen, who also wrote many hit songs including "Home for the Holidays," "Chances Are," as well as the fight song for Auburn University in Alabama, "War Eagle." The orchestra was under the direction of Owen B. Masingill, who also wrote arrangements and conducted for many top performers, including Duke Ellington, Perry Como and Hoagy Carmichael, and also played trombone with Gerry Mulligan.
8. Mae West – Santa, Come Up and See Me Sometime (Unknown)
Mae West was an American actress, playwright, screenwriter, and sex symbol, who was famous for her provocative double entendre laced humour. She was an outspoken crusader for free speech, and was also an early advocate of gay and transgender rights. In the 1960's, in an attempt to keep her commercial appeal with younger generations, Mae West recorded two Rock and Roll albums, "Way Out West", which featured covers of songs by Bob Dylan and The Beatles, and "Wild Christmas", which featured "Santa, Come Up and See Me Sometime," a very strange song where Mae expresses her lust for Santa (and his reindeer) by using one of her better known catchphrases.
9. Kay Martin & her Body Guards – Come on Santa, Let's Have a Ball (Unknown)
See Disc 1, Song 3
10. Bobby Helms – Captain Santa Claus and His Reindeer Space Patrol (Unknown)
Bobby Helms was an American singer, who had hits on both the country and pop music charts in the late 1950s. Christmas 1957 saw the release of the Bobby Helms hit song "Jingle Bell Rock," and it reappeared again on the charts four of the following five years, becoming a Christmas classic in the process. The B-Side of the single was a less popular song, called "Captain Santa Claus and His Reindeer Space Patrol." The rocket sound effects sound like a combination of a toilet flushing and someone clearing their throat of phlegm. Nice!
11. Dora Bryan – All I Want For Christmas Is A Beatle (Benton)
Dora Bryan is a British actress, with a long list of films, television shows and plays to her credit. She has a distinctive speaking voice which has become a trademark of her performances. She recorded "All I Want for Christmas is a Beatle," in 1963. The song has the distinction of being the first record that attempted to cash-in on the success of the Beatles, and was a top 20 hit in the UK that year.
12. Debbie Dabney – I Want To Spend Christmas With Elvis (Heartbreak Noel) (Kirshner/Darin)
Out of the unholy compositional alliance of Don Kirshner and Bobby Darin comes "I Want To Spend Christmas With Elvis." The long forgotten Debbie Dabney brays the lyric made up of Elvis Presley song titles loosely strung together around a sexually suggestive Christmas theme. This song fits in to a pop music sub-genre called the 'cash-in record'. These occur when a musical star becomes so famous that other people (read: record companies) feel obliged to perform songs about him or her. Elvis certainly falls into this category, so we ended up with this record. Other examples include "I Want to Spend Xmas With Elvis" by Marlene Paul (which is in fact the same song, released under a different name in a vain attempt to fool the public) and "Elvis For Christmas" by Mad Milo, a Buchanan-Goodman styled novelty record. Note that these are just the Christmas-oriented Elvis cash-ins; there were plenty of others not related to the holiday, like "My Boy Elvis" by Janis Martin.
13. Little Betty Ashley and J.W. Thompson – The Christmas Dolly (Unknown)
No information has been forth coming about these 'artists'.
14. Sheb Wooley – Santa and the Purple People Eater (Wooley)
Shelby F. "Sheb" Wooley was a musician and character actor who appeared in many Western movies – but is most famous for having written and recorded the most annoying rock and roll earworm ever, "Purple People Eater," which in 1958 was so popular that a toy line was produced not long afterwards. Shortly after he released "Purple People Eater", Wooley tried to further cash in on the success of his hit by releasing a string of lesser-known novelty songs, including "The Purple People Eater Plays Earth Music," "Purple People Eater #2," and even a song called "Skin Tight, Pin Stripped, Purple Pedal Pushers." In 1958 he released a Christmas song called "Santa and The Purple People Eater," about Santa's encounter with Sputnik and an alien, however no song of his ever really captured the attention of the record buying public in the same way as the original.
15. Barbra Streisend – Jingle Bells (Pierpont)
I would have loved to have been in the recording studio when the arranger and orchestra came in ready to record this Christmas standard. I can then see Streisend coming in and saying, "We need to record this song in under two minutes because I'm late for dinner/my car is on a parking meter that is about to expire etc". That can be the only explanation for why is it sung at 80mph. Please, just turn the damn thing off!
16. Buddy Hackett – Dear Santa Claus (Unknown)
Buddy Hackett was a legendary rubber-faced comic, actor, and entertainer. Described as a 'comic's comic,' he appeared in films such as "It's a Mad, Mad, Mad, Mad World", and "The Love Bug", as well as numerous television appearances.
17. Kay Martin & her Body Guards – Santa's Doing the Horizontal Twist (Unknown)
See Side A, Song 3
18. Ben Light – Christmas Balls (Balls)
Benjamin Bertram Leight had a long career, performing under the name 'Ben Light.' From the 1930s to the late 1950s, he made hundreds of recordings, and sold millions of records. In 1936, he recorded 'party' records for Hollywood Hot Shots, a low-budget record label which supplied jukebox records. While Ben accompanied on piano, an anonymous male singer did the singing. These songs, with titles like "The Guy Who Put the Dix in Dixie" and "Christmas Balls," were considered raunchy material in their day, filled with sexual innuendo and 'teasing' lyrics.
19. The Beach Boys – Santa's Beard (Wilson/Love)
The annoying child pulls the pillow out from under Santa's shirt and pulls off his beard. The whole scenario makes ours stomachs turn, much like an undercooked Brussels sprout. When was the last time that pillow was washed for God's sake? With Brian Wilson hitting his most migraine-inducing falsetto note as he repeats the taunt ("Not Santa! Not Santa!"), we may never enter a shopping centre again. Not one of the best Beach Boys efforts by a long shot.
20. Sonny James – Barefoot Santa Claus (James)
Sonny James is a popular American country music singer and songwriter. From 1964 to 1972, Sonny James was a dominant force in country music. He recorded 16 straight #1 singles in addition to 72 verified chart hits. James's career No.1's total would eventually stand at 23. In 1969, Billboard magazine named him 'Artist of the Year.' Back in 1966, James released this Christmas record complete with obligatory off-key children's choir. Why is it that a chorus of children just can't sing in tune on records? The song was co-written by Bob Tubert, who also wrote songs for Brenda Lee, Eddy Arnold and Dolly Parton. Oh well, everyone has an off day.
21. The Go-Go's – I'm Gonna Spend My Christmas with A Dalek (Unknown)
Over the years, Doctor Who has also inspired dozens of musical tributes, such as the 1964 Christmas song "I'm Gonna Spend My Christmas With A Dalek" by The Go-Go's (not the Belinda Carlisle Go-Go's, but a 1960s British pop band of whom this was the only recorded song. This band originated from Newcastle). In the song, a little girl explains that she'll celebrate the season by kissing her favourite robot "on his chromium-plated head." You haven't lived until you have heard a Dalek asking for "more plum pud-ding and cus-tard."
22. Don Ho – This Christmas (Jenkins)
Don Ho was a popular Hawaiian musician and entertainer. His soothing and seductive baritone voice, treasury of stories and warm island personality, entertained generations of fans for over four decades. He released his Christmas album that was produced and arranged by the legendary Gordon Jenkins (who also worked with Judy Garland and Frank Sinatra). The album included this song that Jenkins wrote where Ho does his best lounge lizard impersonation.
23. Elton Britt & The Pinetoppers – Christmas in November (Unknown)
Britt was a popular country singer of the 1940s, with a yodelling style often compared to Jimmie Rodgers. He released over 600 singles and 60 albums, and is best known for "There's A Star Spangled Banner Waving Somewhere," which was the first country song awarded a gold record for selling more than a million copies. The song was adopted as a symbol of the war effort by patriotic audiences, and President Franklin Roosevelt invited Britt to the White House in 1942 to perform the hit. "Christmas in November," released in 1962, is a weepy story about 'little Jevy' who 'won't be with us in December,' so they have Christmas a month early. The whole song is very sappy, but the creepiest part of the song is the fact that the father's biggest concern seems to be what the neighbours will think.
24. Alex Houston and Elmer – Here Comes Peter Cotton Claus (Unknown)
Alex Houston has been performing for more than 50 years along with his ventriloquist dummy named Elmer, which was purchased for $50 when Alex was 8 years old. His act includes parodies of country songs with Elmer doing most of the singing. In 1972, they released an album on called "Here Comes Peter Cotton Claus," which features a song by the same name as the first track on each side of the album. On the back cover, country singer Charley Pride is quoted as saying: 'Alex is so talented that you leave believing there were two guys on that stage.' and 'I think Elmer is one of the funniest guys I ever met.' Apparently Charley doesn't get out much anymore.
25. Derrik Roberts – There Won't Be Any Snow (Christmas in the Jungle) (Vance/Pockriss)
This song briefly broke in to the American Top 10 in December of 1965, falling only behind singles from The Beatles. The song is credited to the songwriting team of Paul Vance and Lee Pockriss, who also wrote ""Itsy Bitsy Teeny Weenie Yellow Polka Dot Bikini," "Johnny Angel," and "Catch a Falling Star." This schmaltzy recording, by Derrik Roberts, is a sentimental pro-war message, from a soldier supposedly on the front lines in Vietnam. This song also features sound effects of gunfire and bombs, as well as jungle noises, which were added for dramatic effect. File with John Waynes' film "The Green Berets" for misguided propaganda efforts.
26. Barry Gordon – Zoomah the Santa Claus from Mars (Unknown)
Barry Gordon is an American film and television actor who began his professional life at the age of three as a child singer and actor. In 1952, at age six, he recorded "Nuttin' for Christmas," which is one of the top ten best-selling Christmas records of all time. The lyrics show that kids have been annoying for a lot longer than you think. Gordon would go on to be the longest serving president of the Screen Actors Guild.
27. Earney Vandagriff & Joe Poovey – Christmas Filled With Cheer (Vandagriff)
Earney Vandagriff was one of the many country music artists influenced by Hank Williams. Joe Poovey was encouraged to become an entertainer by his father at age four. By age nine he was recording hillbilly music in a studio. His parents had encouraged him to learn the guitar and by 1953 he was fronting his own country band, the Hillbilly Boys, and playing the prestigious Big D Jamboree radio show. In 1955 Earney Vandagriff and the Big D Boys were all set to hunker down and cut a little country number called 'Christmas Filled With Cheer' and they roped in young Joe Poovey to provide a recitation. The fiddle-heavy "Christmas Filled with Cheer" is pretty creepy, with Poovey talking directly to Santa Claus about how 'my daddy's dead [and] I hide where no one will see my tears.' What is it with country singers and depressing Christmas songs? If fact, not just Christmas songs, every song.
28. The Happy Crickets – Christmas Is For The Family (Unknown)
After the success of Pinky & Perky and The Chipmunks, there were a large number of copycat records, which featured sped-up vocals of animal characters. These groups included The Grasshoppers, The Penguins, The Nutty Squirrels, The Happy Hamsters, The Panda Bears, Santa's Elves, Harvey the Singing Hamster, The 3 Little Pixies and The Busy Beavers. Happy Time Records, a division of the Pickwick International Corporation released a series of records by their own knock-off version of The Chipmunks, with an album called 'Christmas with the Happy Crickets'. The Happy Crickets is probably the worst attempt at cashing in on the singing animal phenomenon; the singing is terrible (even when sped up), and the arrangements sound like they were slapped together by a committee of drunks whilst hoping the session fee arrives soon so they can buy another crate of booze. The song "Christmas is for the Family" is definitely one of the most annoying songs I have ever heard, or ever care to hear.
29. Red Sovine – Is There Really a Santa Claus (Unknown)
Woodrow Wilson "Red" Sovine was a country music singer associated with truck driving songs, particularly those recited as narratives set to music. The most famous example of this is his 1976 number one hit "Teddy Bear". Almost all of Red Sovine's songs contain one or more of the following elements: trucking, orphaned children, without one or both parents (usually big eyed boys), crippled children (maimed, blind, or just plain gimpy), dead or dying people. Sovine is also remembered for his Christmas tear-jerkers, which included "Here is Christmas" (a divorcee's holiday lament) and "What does Christmas Look Like?" (a little blind girl asks daddy to describe the Christmas that she cannot see). Red has two equally maudlin songs on this collection. The first "Is There Really a Santa Claus?" tells the story of two children who are left motherless on Christmas Eve, and their grieving, despondent father tells them that they shouldn't expect any toys from Santa. Later, after overhearing the kid's prayers, he is overcome with guilt, and decides to buy them some toys at the last minute. As he hurries to the shops, he gets struck by a car, and killed in the process. The poor kids are orphaned, but none of that seems to matter because, when they wake up the next morning, they get the Christmas presents that they wished for. Well, that makes the loosing of both parents in one day alright then doesn't it. The second is "Faith in Santa," which is about a runaway, starving, half-naked and abused boy dying on a street side Santa's lap. Before he dies he tells Santa that his daddy is in prison for killing his mamma's boyfriend, mom is never around because she works in a bar and the guy they live with beats him. Someone pass the Joy Division box set because I need cheering up.
30. Captain Kangaroo – The Ballad of Charles Dickens' Christmas Carol (Unknown)
Captain Kangaroo (played by Bob Keeshan) was an American children's television series which aired weekday mornings on CBS Television from 1955 until 1984. One of the longest-running network children's shows of all time, Captain Kangaroo left a lasting impression on the minds and hearts of children during its 30 years on television. The show was built around life in the "Treasure House," where the Captain (whose nickname came from the big pockets in his coat) would tell stories, and take part in silly skits with human and puppet characters. Keeshan wrote many books and released several record albums as Captain Kangaroo. He also released a Christmas LP called "Merry, Merry Merry Christmas," which features a frantic retelling of Charles Dickens' "A Christmas Carol," called "The Ballad of Charles Dickens' Christmas Carol." I love how they distilled entire chapters down to one or two throwaway lines. Nice.
Disc 2
1. 'Wounded' John Scott Cree – Rudolph the Red Nosed Reindeer (May/Marks)
Wounded John Scott Cree is a folk singer similar to Loudon Wainright or Richard Digance. He toured a lot in the 1970s and recorded a number of singles for the Pye label (of which this is one and not folkie in anyway) but disappeared for many years before making a comeback in recent years. This record is always on heavy rotation in Squire Towers over Christmas and the holiday season hasn't official started until this is blasting out of the stereo.
2. Canned Heat & the Chipmunks – The Christmas Song (Bagsasarian)
The Chipmunks are possibly the most popular TV and musical cartoon of all time, enjoying two periods of prosperity. The '60s era of adolescent Baby Boomers and the '80s, when the Boomers' children were growing up and having families of their own. The man who brought the Chipmunks to life, Ross Bagasarian worked as an actor and songwriter before experimenting with a novel technique. He would record normal vocals but would then speed up the playback on a tape machine. The process yielded the number one hit "Witch Doctor" in early 1958, and the phenomenon mushroomed later that year when his Christmas gimmick single "The Chipmunk Song", which spent four weeks at the top of the charts. "The Alvin Show" premiered on prime-time television in 1961, with all voices supplied by Bagasarian. Chipmunk records continued to chart throughout the 60's and 70's, by which time Bagasarian Jr. had taken over from his late father. Canned Heat was a blues-rock/boogie band that formed in Los Angeles in 1965. The importance of the group lies not only with their blues-based music, but with their efforts to reintroduce and revive the careers of some of the great old bluesmen (e.g. John L:ee Hooker). As a band, they played at the Monterery, Woodstock and Isle of Wight music festivals. For some bizarre reason, Canned Heat were paired with their Liberty label-mates, the Chipmunks on this bizarre slice of late 60's godawfulness. The "Chipmunk Song" wasn't actually the same song as the Chipmunks' similarly titled 1958 chart-topper, but it was a good-natured boogie containing 'humorous' dialogue between Heat singer Bob Hite and the Chipmunks.
3. Homer & Jethro – Santa Claus, The Original Hippie (Unknown)
Homer & Jethro were an American country music duo, with a long career from the 1940s through the 1960s, specializing in comedy records and satirical versions of popular songs. I'm surprised the American's like Christmas so much if the lyrics of this song are to be believed, Santa is just some old Commie.
4. Bobby Sherman – Christmas Is (Make It Sweet) (Karen/Reuss)
Sporting a winning smile and fashionably shaggy hair, Bobby Sherman was a genuine teen idol during the late '60s and early '70s. Sherman first surfaced as a regular on ABC-TV's mid-'60s rock spectacular 'Shindig!', then co-starred on the warm-hearted program 'Here Comes the Brides'. He stormed the pop charts as a vocalist in 1969-70 with the well-produced "Little Woman," "La La La (If I Had You)," "Easy Come, Easy Go," and "Julie, Do Ya Love Me," all four songs credited as million sellers on the Metromedia label. The hits stopped abruptly in 1972, and today Sherman mostly works behind the scenes in television. God knows who the children are on this record, but someone should have called child services.
5. Ricky Segall & the Segalls – All I Want to Ask Santa (Segall)
Born in Long Island, New York, Ricky Segall began his acting career in 1973 at the age of four when he played Ricky Stevens on 'The Partridge Family' from 1973-1974, during the television series' fourth and final season. By the fourth season, due to declining ratings and David Cassidy's looming possible departure, an effort was made by the producers to breathe new life into the show, by introducing a precocious 4-year-old neighbour called 'Ricky Stevens,' played by Ricky Segall, to occasionally sing children's songs. Ricky was famous for his bowl haircut and his off-key singing. In 1973, Bell Records released an album entitled "Ricky Segall and The Segalls," with the unforgivably awful Christmas song "All I Want to Ask Santa Claus." All of the songs on the album were written by Ricky's father. Ricky Segall is currently a minister at a Church in San Antonio, but this will not save him. He is definitely going to hell for this record.
6. John Denver – Please, Daddy (Don't Get Drunk This Christmas) (Danoff/Nivert)
The late Rocky Mountain troubadour sometimes introduced this song as a funny little ditty that took on more serious overtones over time. It's hard to see what could have been funny about a seven-year-old pleading with dear old Dad to not come home completely smashed and ruin Christmas like he does every year by not passing out under the tree. It should be noted that Denver had been arrested twice for Driving under the influence of alcohol before his untimely death.
7. Irwin the Disco Duck – Sleigh Ride (Anderson/Parish)
Irwin featured on a number of records in the late 70s, right in time for the disco boom. Looking at the sleeves to the records and noise Irwin makes, you would have thought that the Walt Disney Company would have sued the pants off of them due to him not only looking a lot like Donald Duck, but sounding like him as well. One of the voice actors used for Iwrin was Don Messick, who would later go onto voice Scrappy Doo. To err is human, to voice Scrappy Doo is unforgivable.
8. Carolee Goodgold – Boogaloo 'Round The Aluminium Christmas Tree (Unknown)
Carolee Goodgold is an American singer/actress/voiceover artist. She can be heard on hundreds of commercials, records, industrials and audiobooks. Some of the national campaigns for which she performed the vocals and/or voiceover include Cingular, Cheerios, Verizon, Dentyne, Downy, MCI, Jello, Tourneau, Dole, Napier, Lone Star Beer, Club Med, MGM Grand, American Express, IBM, Revlon, Unisom, among many others.
9. The Little Stinkers – I Farted on Santa's Lap (Unknown)
The Little Stinkers is a group of kids led by Mary Beltrami, a seven year-old girl with a supposed angelic voice and a gift for comedic delivery. We beg to differ.
10. John Bongiovi – R2-D2 We Wish You a Merry Christmas (Yeston/Meco)
Released on the album 'Christmas in the Stars' which features recordings of Star Wars-themed Christmas songs and stories about a droid factory where the robots make toys year-round for a certain 'S. Claus'. Much of the album is sung and narrated by British actor Anthony Daniels, reprising his role as C-3PO and LucasFilm provided the genuine sound effects for R2-D2 and Chewbacca. The singer you can hear though was a young man called John Bongiovi, who in a few short years after this would become Jon Bon Jovi. At this point in his singing career, he was just sweeping the floors at his cousin's studio before being asked to sing this bizarre ditty. Everybody has to start somewhere you know.
11. The Sensational Little Shana Lynette – Mister Russian, Please Don't Shoot Down Santa's Sleigh (Unknown)
Another slice of Cold War lunacy. Thos pesky Ruskie's are not only going to shoot down Satan so stopping those good American kids from enjoying Christmas, they no doubt plan to kidnap the Easter Bunny as well. No information has been forth coming about this 'artist'.
12. Billy Idol – White Christmas (Berlin)
Oh dear! Believe or not, there is a whole album of Idol Christmas songs out there. Was he drink when he recorded this, or was it a present for his mother that somehow managed to get released? It is not recommended though unless you like the idea of a quite famous rock star doing an impression of a pub singer.
13. The BellRays – Rocket Ship Santa (Fate)
The BellRays are a "rock 'n' soul" group that was founded in the early 1990s in Riverside, California. This song was released as part of a compilation called "F*ck Christmas". They're nice boys really.
14. Mojo Nixon – Christmas, Christmas (Unknown)
Mojo Nixon (born Neill Kirby McMillan, Jr) is an American musician. A part of the psychobilly movement, he is known for his boisterousness, his often scathing critiques of pop culture, his insults about contemporary celebrities, and his libertarian political views. Christmas was also on his hit list evidently.
15. Sarah Silverman – Give the Jew Girl Toys (Garman)
Sarah Silverman is an American Emmy Award nominated comedian, writer, singer, guitarist, and actress. Her satirical comedy addresses social taboos and controversial topics such as racism, sexism and religion. She often performs her act as a caricature of a Jewish-American princess, mocking bigotry and stereotypes of ethnic groups and religious denominations, by endorsing them ironically, like celebrating Christmas evidently.
16. Madonna – Santa Baby (Javits/Springer/Springer)
Madonna had been around the block far too many times even by the time this came in 1987 to get away with playing the infuriating Betty Boop-ish ingénue. When Eartha Kitt made a case for being a good, deserving girl 'think of all the fellas that I haven't kissed' it was mildly amusing. When Madonna trotted out the line, it was just another reason for whatever bloke she was seeing at the time (Sean Penn if memory serves) to start throwing the ornaments about.
17. Big Jim & the Goodbuddies – CB Santa (Unknown)
Before the Internet or mobile phones, there was an earlier communication fad in the 1970's: CB radio. America was caught in a Citizen's Band mania that painted truck drivers as counter culture heroes – highway cowboy kings who fought "Smokey Bear" at every turn (or the police if your not up with your CB jargon). Millions of people thrilled at the chance to have meaningless conversations with total strangers out on the road, complete with its own slanguage ('Hammer down, good buddy', 'Bear in the air,' etc.). In 1975, at the height of the CB mania, a band by the name of "Big Jim & The Goodbuddies" released a single called "CB Santa," backed with "Soup of the Day." "CB Santa" is about a trucker with a CB radio rescuing Santa from a snowbank, with a chorus that parodies "Oh Susanna."
18. Matthewmatic – Hanukkah's on (Unknown)
Why just have Christmas when we can have some about Hanukkah as well. You can't say we are not inclusive here. No information has been forth coming about this 'artist'.
19. Suzannah – Mom and Daddy, Please Don't Steal For Me This Christmas (Unknown)
Make do with nothing for Christmas due to a lack of cash. God forbid, we can't have that so let's go and steal the kids some Christmas presents. That's really buying into the spirit of the season ins't it. No information has been forth coming about this 'artist'.
20. Jeff Foxworthy – Redneck 12 Days of Christmas (Foxworthy/Wilson)
Jeff Foxworthy is an American stand-up comedian, actor and game show host who in 1993, he released 'You Might Be a Redneck If…' which started the "You Might Be a Redneck" fad, topped the comedy album charts, and sold more than three million copies. Foxworthy has made a successful career out of bingo a one trick pony. Well done him.
21. Wesley Willis – Merry Christmas (Willis)
Wesley Willis was perhaps the most prolific and the best-known outsider musician. His formula was simple: a kicking synth beat under a spoken verse, trailed by the song title yelped four times in a chorus. The formula worked so well that Willis composed thousands of songs in the same exact pattern. A diagnosed schizophrenic, he gained a sizeable cult following in the 1990s after releasing over 50 CDs (almost always containing 30 songs) of unique but simple music. The emphasis was always on his stream-of-consciousness lyrics full of bizarre, excited, and often obscene rants about crime, fast food, cultural trends, bus routes, violent confrontations with superheroes, commands for his 'demons' to engage in bestiality, and praise for his favourite actors, friends (both platonic and romantic), politicians, and hip-hop and rock artists.
22. Spın̈al Tap – Christmas with the Devil (Tufnel/St. Hubbins)
Spın̈al Tap is a semi-fictional heavy metal band, the subject of the 1984 rockumentary/mockumentary film 'This Is Spın̈al Tap'. The band members are portrayed by Michael McKean (as David St. Hubbins), Christopher Guest (as Nigel Tufnel) and Harry Shearer (as Derek Smalls). They first appeared in a 1978 ABC comedy special, 'The TV Show'. The same trio of actors would be reunited as the American folk music revival band The Folksmen in the 2003 mockumentary 'A Mighty Wind'. The film was accompanied by a soundtrack album of the same name. In the years since the film was made the actors who portrayed the band members have played concerts and released music under the Spinal Tap name, blurring the line between parody and reality.
23. Cashing in on Christmas – Bad News (Dennis)
Bad News are another spoof rock band, created for the Channel 4 television series 'The Comic Strip Presents…'. Its members are Vim Fuego (aka Alan Metcalfe), vocals and lead guitar (played by Adrian Edmondson who also wrote the episode); Den Dennis, rhythm guitar (Nigel Planer); Colin Grigson, bass (Rik Mayall); and Spider Webb, drums (Peter Richardson). The episode, 'Bad News Tour', took the form of a fly-on-the-wall rockumentary, in which the incompetent band is followed travelling to a gig in Grantham by an almost equally inept documentary crew. Coincidentally, it was in production at the same time as the similar film 'This Is Spinal Tap', which was released the following year to much greater acclaim.
24. Shelley Duvall – Dear Santa Claus (Kipner/Ross)
Shelley Duvall is an award-winning American film and television actress who began her career in the 1970's appearing in the movies of Robert Altman. She has also appeared in movies by Woody Allen, Stanley Kubrick, Terry Gilliam and Tim Burton. In 1991 she released a Christmas music collection called "Hello, I'm Shelley Duvall…Merry Christmas." This music is so bad it was hard to choose a single song as being the worst of the bunch, but we decided on "Dear Santa Claus" as being representative of the rest of the songs, which are to be frank, hideous. We should have known what was coming after her vocal chops were on full display in the Robert Altman Popeye movie.
25. Carrie Fisher – The Life Day Song (Williams/Welch/Welch)
In May 1978, the Star Wars phenomenon was at its height, and someone at 20th Century Fox suggested to Lucasfilm that they cash in on/allow the creation of a Star Wars themed holiday special (delete as appropriate). George Lucas initially liked the idea, and sat down with the show's producers and penned a basic story outline for the television special. It is Life Day, a holiday that is celebrated on Chewbacca's home planet Kashyyyk (This being 'A Long Time Ago in a Galaxy Far, Far Away' there can't be a Christmas). What followed was two of the most excruciating hours of TV ever broadcast (except for the Boba Fest cartoon segment, that is actually quite good.). The real 'highlight' came near the end of the show when Carrie Fisher gives a short speech on the meaning of Life Day and sang a song in celebration, "The Life Day Song", sung to the tune of the Star Wars theme. The Holiday Special was only ever broadcast once but has been widely bootlegged down the years. Lucas famously said that 'If I had the time and a sledgehammer, I would track down every copy of that show and smash it.' When interviewed many years later Carrie Fisher pretended not to know what the journalist was talking about when the subject of the Holiday Special was mentioned. No one likes to be reminded of bad work, especially when they might have made it might have been made under the influence of some sort of illegal substance (allegedly).
26. Red Sovine – Faith In Santa
See Side A, Song 29.
27. Newsong – The Christmas Shoes (Ahlstrom/Carswell)
Dear Lord, where do we start with this offering from Christian band Newsong? There is something terribly disturbing about the thought of a little boy buying his Mum new shoes for her trip to Heaven because 'I want her to look beautiful if Mama meets Jesus tonight.' which almost implies that Jesus Christ has a foot fetish. The production is so sugary sweet that you can feel your teeth rot away as you listen to it. There's no telling how many people this song has killed from diabetic shock.
The front cover is adapted from a record put out under Stephen Colbert's name. Even though the cover is very cheesy, the record itself contains serious muso's such as Elvis Costello and Willie nelson joining the Colbert. Sorry Stephen, but the cover had the exact aesthetic I was looking for and it was too good not to use.