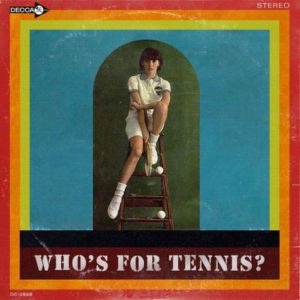 Following on from my earlier John Entwistle post here is another slice of The Who for you. 1968 was a busy time in terms of ideas for The Who that never happened. There was talk of a TV show called 'Sound & Picture City', which would involve The Who performing a new song every week, act in some light hearted sketches and introduce a series of musical guests. If you want to get some idea of what these sketches would have been like, watch the 'Happy Jack' promo film from 1966 (link below). There was talk of a live album, and two nights were recorded at the Fillmore East, but these would not see the light of day until 2018. Apart from the John Entwistle children's record, there was talk of a covers EP and/or an LP of whatever was left over in the archives at the time which would go by the name of 'Who's For Tennis'.
As this was the era when the band were not short of ideas, but they lacked the application to actually finish them, none of the above projects would see the light of day in the 60s. On other sites that look at records that never saw the light of day, the album most try to reconstruct is 'Lifehouse' project. Others look at reproducing the 'Who's For Tennis', an album which would have been a mix of songs rejected for other projects and some newly recorded material that would eventually be either kept in the vaults or be released on singles.
With my version of 'Who's For Tennis', I have gone with one of the other concepts that was put forward in 1968 and that was the covers EP. This may well have been seen as a retrograde step by the band as Townsend had already forged a reputation as a song writer of note. It was also the done thing for serious museo's to write their own material at this time. Covers were for pop and novelty acts man. This could also be seen as the band being ahead of the curve because both David Bowie (who covered 60s music that had inspired him) and Harry Nillson (with an album of standards) would do just that in the early 70s. Instead of the record being an EP though, I wondered if there was enough material to make an LP. Well, there was but only just. With this in mind, would the band have re-recorded some of the songs that had covered previously, made some new covers or just released songs that they already had in the vault to save time. I went with combination of the last two.
There were two other things I took into consideration is that no covers could be included if they had already appeared on an album before this. The second thing was that any cover from the bands history could be used, except for any recordings made for the BBC and I could not used anything that had been recorded with producer Shel Talmy. Talmy owned the tapes from the first album sessions and there was some bad blood between the producer and the band, especially after the legal dispute had found in his favour. I doubt that Talmy would have released the tapes in 1968, especially as it took until 2002 for these disputes to be settled.
The band did record at least three songs for this project. 'Young Man Blues', 'Summertime Blues' and 'Fortune Teller' are all included here. John Entwistle mentioned that they recorded a version of 'Road Runner', but no evidence has been forthcoming of this. The band also recorded "Shakin' All Over' for the BBC and they performed it in concert many time in the late 60s and early 70s. However, I could not find any reference to a studio version so this one could not be used. Three songs does not an LP make, so what else do we have from the bands archive. The 70s compilation 'Odd's & Sod's', which did a really good job of showing that there was more to the band that what fans had heard so far. It is the reissue from the 1990's which opened up the archive doors a little further to add weight to this project. From it, we have a cover of Eddie Cochran's 'My Way', recorded in 1967, 'Summertimes Blues' was another Eddie Cochrane song that would be included on The Who's 'Live At Leeds' but this is the studio take from 1967. Lastly they is a cover of Mose Allison's 'Young Man Blues', which also featured on the Who's 'Live At Leeds' LP.
Then there is the two covers of songs by The Rolling Stones. 'Under My Thumb' and 'The Last Time' that had been recorded to show support for Mick Jagger and Keith Richards who had been imprisoned on drugs charges. The recording was completed when a time when John Entwistle was on his honeymoon, so Pete Towsnend played the bass on these recordings. By the time the single came out, Jagger and Richards had both been released and the single did not break the Top 40 of the UK singles chart.
'Bucket T' was originally recorded by Jan & Dean, and it may well have been Keith Moon's suggestion to record this as he was a big fan of surf music. This is also the only song from the 'Ready, Steady, Who EP not included on the John Entwistle children's record and I didn't want to double up on the songs used on these Who what if records. If this version of 'Who's For Tennis' had even been considered, then these two tracks could have made the LP.
The Who had also recorded a version of a classical tune for another unrealised project from 1967. That project was an instrumentals EP where the band would showcase their improvisational side but only two tunes were recorded before this project fell by the way side. One was the self composed 'Sodding About', but the other was a cover of Grieg's 'Hall of the Mountain King'. There was also a studio cut of the Everly Brothers song 'Man With Money', and lastly is a version of Bo Diddley's 'Here 'Tis', which dates back to the early days of the band and their sessions for Pete Meeden when they were going by the name The High Numbers.
Even though this was an interesting trawl through The Who's archive, I feel that if this record was released in 1968, it would have been a good stop gap until they unleashed 'Tommy' a year later. 1968 really was a lost year for The Who, but they did have an ace up their sleeves in the form of a deaf, dumb and blind kid who would propel the band into superstardom.
Side A
Here 'Tis (as The High Numbers)
My Way
Under My Thumb
Bucket T
In The Hall Of The Mountain King
Side B
Man With Money
Fortune Teller
Summertime Blues
Young Man Blues
The Last Time
The front cover is taken from the wonderful John Hunt and his website over at https://idesignalbumcovers.tumblr.com. Due to one or more songs not being available, this playlist could not be replicated on Spotify.
The 'Happy Jack' promo can be seen via this link https://www.youtube.com/watch?v=52cQeFBU2Kw