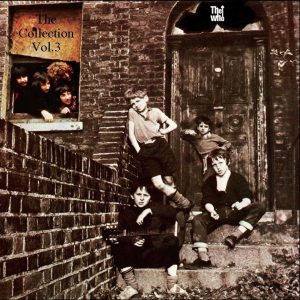 In the third of my Who compilations, I am looking at the period of time just after 'Tommy' up to and including 'Qudropheania'. With the success of 'Tommy', the band became financially secure but were not keen to sit on their laurels. Having played two key festivals in Woodstock and the Isle Wight (both in 1969), the band decided to release a live album that would show how different their sound was on stage compared to the studio. 'Live at Leeds' is considered one of the greatest live albums of all time and some of those songs are included here as I prefer them to their studio versions. The rest of disc 1 is made up of some tracks that were written for the 'Lifehouse Project' with some like 'Sister Disco' being Pete Townshend demos.
Disc 2 cover the 'Quadrophenia' sessions and so does not follow the storyline of the original album. Like Disc 2 on the previous collection, I was going with how it sounded to me as a compilation without having to worry about maintain the narrative. I used the 2011 Super Deluxe Edition of the album and took from that a number of songs that had originally been dropped from the LPs running order and some that only exist in demo form. It does not follow the story of the original album, but it still finishes with the main character of Jimmy sitting on a rock and his final fate is once again ambiguous.
Disc 1
Baba O'Riley (Instrumental Version)
Heaven & Hell (Live)
Eyesight To The Blind (Live)
Young Man Blues (Live)
Boney Marone (Live)
Summertime Blues (Live)
Shaking All Over (Live)
Postcard (1970 Version)
I Don't Even Know Myself
Sister Disco (Pete Townshend Demo)
Mary (Pete Townshend Demo)
Long Live Rock
Love Ain't For Keeping (New York Recording)
Going Mobile
Behind Blue Eyes
Too Much Of Anything
Greyhound Girl (Pete Townshend Demo)
When I Was A Boy
This disc could not be replicated due to one ore more songs not available on Spotify.
Disc 2
I Am The Sea
The Real Me
You Came Back (Demo)
Cut My Hair
Quadraphonic Four Faces (Demo)
Wizardry (Demo)
The Punk & The Godfather
Drowned
Sea & Sand (Demo)
5:15
Get Inside (Demo)
Joker James (Demo)
I'm One (Demo)
Is It In My Head?
Helpless Dancer
Doctor Jimmy
The Rock
Love Reign O'er Me
The cover is adapted from the band's compilation 'Meaty Beaty Big and Bouncy' which was released in 1971.
This disc could not be replicated due to one ore more songs not available on Spotify.