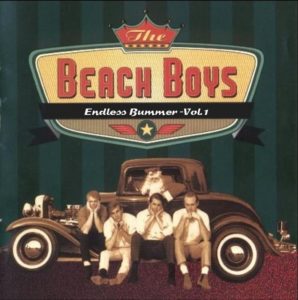 I am not be the first person to come up with the concept of looking at the worst recordings from an artists back catalogue. I believe that the first was the infamous bootleg, 'Elvis' Greatest Shit' which was released in 1982 showcasing some of the worst recordings from the King's career.
When it comes to The Beach Boys, I and also not be the first to take this concept and run with it. Mine is a little different though as I will explain. The Beach Boys must be one of the most bootlegged bands of all time, and normally, these contain enough gold to justify a few repeat listens. However, for a group that has been performing for the best part of 60 years, there was always going to be some skeletons in the closet that the band would much rather have not seen the light of day. Luckily (or unluckily depending on your point of view), a number of the worst recordings the band has made were compiled on a bootleg called 'Endless Bummer, The Very Worst of The Beach Boys', and it sure does live up to its title. There is a drunk Carl Wilson trying to make his way through 'Good Vibrations', Mike Love making a quick buck on some adverts, a Spanish language version of their massive mid 80s hit, 'Kokomo' as well Brian Wilson's father berating him in the recoding studio. However, all of these recording from this have not been released commercially as far as I can tell, and it is unlikely that they ever will be anyway.
Now, if we look at the bands output during their mid 60s heyday, we can see that between 1961 and 1966, the released eleven studio albums (I will include Beach Boys Party on that list) and one live album. There was even room for 19 singles, numerous EPs (these tended to be country specific) and even a Best of Album. Coupled with concert tours and promotion, it is no wonder that main song writer Brian Wilson stopped touring after a breakdown. With this amount of product, it is also not a surprise that some filler would be included. However, some of this filler really does defy description. We have an interview, some unfunny studio banter and a drum solo. It is not like Brian Wilson didn't have enough material knocking about as he gave some pretty good songs away to the likes of The Honeys, Glen Campbell and Jan & Dean.
So what do we have for your listening pleasure?
Side 1
Ten Little Indians (Surfin' Safari)
Country Fair (Surfin' Safari)
Chug-A-Lug (Surfin' Safari)
Cuckoo Clock (Surfin' Safari)
The Shift (Surfin' Safari)
South Bay Surfer (Surfer Girl)
Heads You Win, Tails I Lose (Surfin' Safari)
Louie Louie (Shut Down Volume 2)
Bull Session With 'Big Daddy' (The Beach Boys Today!)
Side 2
Our Favourite Recording Sessions (All Summer Long)
Finders Keepers (Surfin' USA)
Denny's Drums (Shut Down Volume 2)
Be True To Your School – Album Version (Little Deuce Coupe)
I'm Bugged At My Ol' Man (Summer Days & Summer Nights)
In The Back Of My Mind (The Beach Boys Today!)
The Times They Are-A-Changin' (Beach Boys Party!)
'Cassius' Love vs 'Sonny' Wilson (Shut Down Volume 2)
Ten Little Indians – Released as the follow up single to Surfin' Safari because Capitol Records thought that surf music would be a short lived craze. This song was based on a children's rhyme  and only just scrapped in the US top 50, and nowhere else. Well, except Sweden where it inexplicably made number 6.
Country Fair – Said to have been written in ten minutes and it shows. Detailing, as it does, a trip to the country fair and all of the 'exciting' things that can be done there. It sounds like a young persons nightmare. It also includes the lyrics 'The most specialist girl I knew, I had her pack us a lunch and on down the dirt road we flew'. Were The Beach Boys too manly to make their girlfriends lunch then? No wonder the girlfriend of the song narrator leaves him for the fair's strongman.
Chug-A-Lug – There is certainly a lot of songs taken from the first beach Boys album, but it really is an awful record. Is this the only record ever recorded about hanging out at a root beer stand, drinking the stuff?
Cuckoo Clock – You want to make out with your girlfriend but every time you get a little too close, the cuckoo clock goes off. Instead of just going to another room, the singer decides to dismantle the clock. What a waste of a good clock. Terrible lyrics to boot.
The Shift – A song about a particular type of dress, Brian Wilson and Mike Love presented the song as a fashion statement. The lyrics make it sound as though there are perving over the girl wearing it and what the hell does "It's tighter than a moo-moo and it's just too much' mean?
South Bay Surfer – A rewrite of the song 'Old Folks at Home', also known as 'Swanee River'. When you run out of ideas, just nick someones else's song and write some new lyrics over the top (Student Demonstration Time repeated the trick on the 'Surf's Up' album). When the singer says 'rock out', there is also a distinct lack of rocking out. The band must have known this was a clunker.
Heads You Win, Tales You Lose – A song about flipping a coin, or numerous other devices to work out who should win an argument. The singer then claims that his girlfriend is cheating to get the result she wants and then deciding to do the same. A blueprint for a long and happy relationship this is not.
Louie Louie – Rock critic Greil Marcus once said "Has there ever been a bad version of Louie Louie?". Well, yes there has and here it is. Coming a year after the garage rock behemoth that was the version by The Kingsmen, this sounds so polite and insipid. Move along, nothing to hear here.
Bull Session With 'Big Daddy' – A recording made during an interview with Teen Set magazine editor Earl Leaf. Half way through, food is delivered because we all want to hear that. This is a rambling, unfocused mess edited down from a recording that was 20 minutes long. The aching ballad 'Guess I'm Dumb' was recorded during the sessions for the parent album but no one in the band wanted to sing it so it was given to Glen Campbell. Surely that would have been better than this spoken word piece of drivel.
Our Favourite Recording Session – Tape noises, mucking around and a distinct lack of care for the record buying public. Not even worth inclusion on an outtakes album.
Finders Keepers – Sounds like at least two different songs stitched together with a lyric about losing a surf board and then getting it back. It sounds too long at 1 minute and 38 seconds.
Denny's Drums – There are those who say that Dennis Wilson was a better drummer than he is given credit for. However, on the evidence of this track, it is not hard to see why Brian Wilson used the cream of L.A. sessions drummers on his recordings once he retired for the road. Also, the Beach Boys are meant to be a vocal group. Instrumentals are bad enough, but a drum solo. Filler for fillers sake.
Be True To Your School (Album Version) – Not a bad song, but included here because of the subject matter. Why is one of the premier bands of their age sining a song about being true to your school? Not exactly the most hip thing a band could do is it?
I'm Bugged At My Ol'Man – Sounds like a demo than a fully realised track. Just Brian Wilson and the piano with his brother and wife backing him up. Written in response to Brian Wilson's tumultuous relationship with his father, the lyrics mention the punishments the singer has to content with for any minor incident, including having his windows boarded up, his hair cut off and a meal of bread crumbs. Brian Wilson would credit himself as 'Too Embarrassed' instead of by his actual name. If he was that embarrassed, why release it?
In The Back Of My Mind – A Brian Wilson experiment with Dennis Wilson singing solo. Includes an unusual time signature and a chord sequence that was not common in Brian Wilson's work. Some say that this os one of the band's masterpieces, but to my ears it sounds sloppy, especially when the instrumentation starts to play out of sync with itself.
The Times They Are-A-Changing – Taken from the 'Beach Boy' Party!' LP, an album made to have some produce ready for the Christmas market, it was meant to be recorded at an actual party, but was made after lots of rehearsing and recorded in the studio. Party noises added on later. In the hands of The Beach Boys, this anthem of change sounds like Little Richard songs covered by Pat Boone.
'Cassius' Love v 'Sonny' Wilson – Supposedly showcasing a behind the scenes look at The Beach Boys in the recoding studio. There is no doubt that during their history, fights in the studio undoubtably happened. However, this is so clearly staged for the microphones. Not worthy of a B-Side, let alone an album track. The cultural reference in the title is now lost on anyone not above the age of 70.
This compilation only includes tracks that were on original US albums, so there isn't anything that has been subsequently released on any of the numerous reissues/archive projects that have been released under the Beach Boys name down the years. There will be some who disagree with this collection, but that is the nature of music. One persons gold is another person manure.
The cover artwork is adapted from an archival released called 'Ultimate Christmas'.