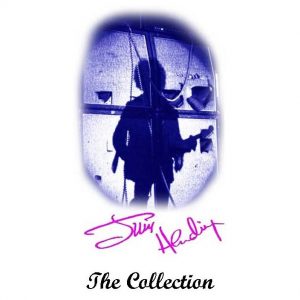 My first experience (no pun intended) of Hendrix was on a K-Tel compilation album called 'British Gold'. The track listing for that album included 'Hey Joe', and a look in the Squire archive in the late 80s when I was expanding my musical pallet contained some of the Track Records sampler albums that went by the name of 'Backtrack' as well as the 'Smash Hits' compilation. Not much to go on but this was about to change.
My interest in Hendrix was really awakened when someone brought in a cassette into school of the 'Radio One' album. What an album this was seeing as it was a compilation of songs Hendrix had recorded for the BBC. With an eye catching cover of the great man himself wielding a Fender Stratocaster guitar, the music contained within was different, electrifying and nothing like anything in the charts at the time it came out in 1988. This seemed to be the album everyone bought and I duel bought mine. A bargain as well at only £5 for a double LP. This album received a lot of plays on the turntable and was great it that this only included what could be argued to be the best version of songs that he seemed to only play at the BBC like Drivin' South. Compare this to the 'BBC Sessions' album released ten years later and you'll see what I mean. The later album might be more comprehensive, but in my opinion 'Radio One' is the definitive album of the two.
After 'Radio One' has wetted the appetite, I bought all of the records not already in the archive that Hendrix with or without the Experience released in his lifetime. Every album had mind blowing songs on them, but the icing on the cake was playing through 'Electric Ladyland' for the first time. Was this a rock album, or an R&B one? But then again, was it psychedelic or blues, or a melting pot taking all of Hendrix's influences and blasting them out of the speakers to attack your senses. Who cares, it is a classic album and contains one of the greatest cover version of all time in Hendrix's interpretation of Dylan's 'All Along The Watchtower'.
Most of the recordings contained on this compilation are taken from the releases of the Jimi Hendrix Experience, with only a couple taken from later sessions because the majority of the post 'Electric Ladyland' material does not fit in with these earlier recordings sonically for me. Enjoy!
Disc 1
Foxy Lady – Are You Experienced
Manic Depression – Are You Experienced
Fire – Are You Experienced
Killing Floor – BBC Sessions
Red House – Are You Experienced
Can You See Me – Are You Experienced
Hey Joe – Single A-Side
Purple Haze – Single A-Side
51st Anniversary – Single B-Side
(I'm Your) Hoochie Coochie Man – BBC Sessions
Wait Until Tomorrow – Axis: Bold As Love
Ain't No Telling – Axis: Bold As Love
Castles Made Of Sand – Axis: Bold As Love
Hear My Train Comin' (Acoustic) – Blues
Catfish Blues – BBC Sessions
Driving South (4:49 min version) – BBC Sessions
You Got Me Floatin' – Axis: Bold As Love
Stone Free – Single B-Side
Crosstown Traffic – Electric Ladyland
Voodoo Chile – Electric Ladyland
Disc 2
Rainy Day, Dream Away – Electric Ladyland
1983…(A Merman I Should Turn To Be) – Electric Ladyland
Moon, Turn The Tides…Gently Gently Away – Electric Ladyland
The Wind Cries Mary – Single A-Side
Burning Of The Midnight Lamp – Electric Ladyland
Still Raining, Still Dreaming – Electric Ladyland
House Burning Down – Electric Ladyland
All Along The Watchtower – Electric Ladyland
Voodoo Chile (Slight Return) Electric Ladyland
Ezy Ryder – First Rays Of The New Rising Sun
Spanish Castle Magic – Axis: Bold As Love
Come On (Let The Good Times Roll) – Electric Ladyland
Long Hot Summer Night – Electric Ladyland
Angel – First Rays Of The New Rising Sun
One Rainy Wish – Axis: Bold Of Love
Little Wing – Axis: Bold As Love
Hear My Train A Comin' – BBC Sessions
Bold As Love – Axis: Bold As Love
The front cover was an image I came across back in the dim distant past so I'm afraid I will not be able to credit the person who made it.
Normally when it comes to music produced from 1966-68, I tend to go for the mono mix as this is what the majority of artists thought of as the playback system that was dominant at the time. However, to my ears, Hendrix sounds weird in mono (if you are lucky enough to hear in that way) so I have gone with stereo mixes for the majority of the songs on this playlist. I think that the only mono records here are from the single mixes.