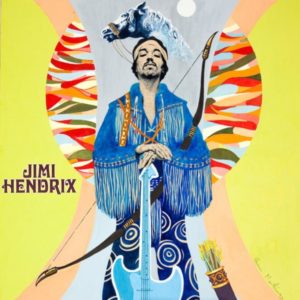 The posthumous career of Jimi Hendrix can be split into three periods. The first period was just after he died when his manager Mike Jeffery was keen to milk the Hendrix cash cow for all it was worth. The second is after Jeffery had died (in 1973) and producer Alan Douglas took over the tape catalogue, as well as paying out of his pocket for tapes that Hendrix had recorded at the Record Plant studios. The third period is from the mid 90s up until the present day where the Hendrix family took control of the guitar players recorded legacy and have put out a steady steam of releases ever since. It is the second period that this entry deals with.
After buying all of the albums released during his lifetime, I turned my attention to the records that were put after his death. These came quite quickly with 'The Cry Of Love' being the first of these and was compiled by engineer Eddie Kramer as well as drummer Mitch Mitchell. The cover is a stunning piece of work and was quite successful with the record buying public on both sides of the Atlantic. Even though this cannot be considered to be the fourth Hendrix studio album because the song mixes had not been finalised by the man himself, it contained a couple of classic numbers including the lovely song, Angel.
From what was a positive start with the posthumous releases, this soon turned into a case of diminishing returns. I did not manage to secure a copy of 'Rainbow Bridge' but I did pick up 'War Heroes' and wondered what Hendrix himself would have thought of this and was it worthy of release. The nadir of the period was 'Loose Ends', an album considered to be so bad that the Reprise record label refused to release it in the US. 
The last album from this period of Hendrix album releases that I bought was 1975's  'Crash Landing'. I think I played it once and until recently, I have never listened to it again. It just didn't do it for me at the time. I think I was just into that psych period of Hendrix too much to want to hear his 'I've moved onto something more heavy and funky' period. 'Crash Landing' was the first of the Douglas releases and he would release another four 'studio' albums during his tenure as the keeper of the Hendrix archives. His time in this capacity has been seen by seem as controversial.
The controversy arises form he fact that Douglas replaced the original backing tracks of some of the songs on the releases he put out, utilising sessions players. These weren't any old sessions players though, but some of the best in the business. In defence of Douglas, if he wanted to make a cash grab album, why spend money on some of the best musicians around. They would not have come cheap. He would also have needed to have updated the sound to appeal to the record buying public of 1975. The crate digging career overview box sets of today were not a thing back in the mid 70's. As far as I can think of, only Buddy Holly & Jim Reeves had had their career prolonged in this way by releasing archive material up to that point. Using session musicians did not endure Douglas to fans of Hendrix, and it might not have helped his cause that he claimed writing credits on some of the 'Crash Landing' songs. 
A few months later, a second Douglas produced Hendrix album was released. 'Midnight Lightning' followed the same template as 'Crash Landing' including using the same set of session musicians. This was followed up with 'Nine To The Universe' which was made up of edited jam sessions, but unlike the previous efforts, Douglas used most of the original backing tracks. Apart from the repacking of already released songs and live albums, Douglas waited until 1994 to release some new Hendrix studio product. 'Blues' contained some songs that had already been released but the majority had not been. Some of them were composites of multiple takes that were edited together to form a new song. This record also included the original backing tracks. One last Douglas album was 1995's 'Voodoo Soup' which was Douglas' attempt at creating the album Hendrix was working on when he died. The album did receive some positive reviews but there was still the criticism that outside musicians were brought in to re-record parts Douglas felt were substandard. Not long after this, the Hendrix family gained the rights to the archives and Douglas's association came to an end.   
All of the albums released after Hendrix's death until the release of the first Hendrix family approved albums in 1997 have been deleted from the back catalogue. However, these releases were around long time and enough copies were sold so it was not difficult to pick up the records missing from the collection, and I feel that in the past I fell into the trap many other have of dismissing Douglas' contribution to the Hendrix legacy. The albums have good players playing on, the covers don't look cheap (even though the Voodoo Soup one is a bit weird) and if Douglas was only after the money, why did he release so few Hendrix studio session albums. The Hendrix family have released considerably more in their time as custodians of the archive, some of it of very dubious quality. The 'Blues' album is also still part of the official catalogue, so if Douglas did such a bad job, why not delete everything he did? If the backing tracks that were recorded with Hendrix in the studio were so good, then why has the Hendrix family not released a studio cut of 'Machine Gun'? Douglas did.  
I put this playlist together using the following albums; 'Crash Landing', 'Midnight Lightning' and 'Voodoo Soup'. I did not use 'Nine To The Universe' as none of the tunes fitted in with this playlist, and 'Blues' is still available. I wanted to see if the recording held up and there was enough for a double album. It could be presented as the best of the Douglas years and it is unlikely that the Hendrix family will never do this themselves.
I was inspired to put this compilation together by reading an excellent blog, http://deadhendrix.blogspot.com. It goes into a lot more detail. looking at each of the albums made up of studio cuts that were put out between 1970 and 1996. It with thanks to that blogger that I listened and re-evaluated the Douglas era. It is bloggers like this that the internet needs. Putting out fresh perspectives and challenging old ideas. I salute you, whoever you are.
Side 1
Message To Love (Voodoo Soup)
Come Down Hard On Me (Crash Landing)
Midnight Lightning (Midnight Lightning)
Gypsy Boy (Midnight Lightning)
Side 2
Room Full Of Mirrors (Voodoo Soup)
Night Bird Flying (Voodoo Soup)
With The Power (Crash Landing)
Drifting (Voodoo Soup)
Side 3
The New Rising Sun (Voodoo Soup)
Belly Button Window (Voodoo Soup)
Freedom (Voodoo Soup)
Stepping Stone (Voodoo Soup)
In From The Storm (Voodoo Soup)
Side 4
Once I Had A Woman (Midnight Lightning)
Machine Gun (Midnight Lightning)
Angel (Voodoo Soup)
The cover for this compilation as adapted from an unused Henri Martinez painting that had been commissioned by Hendrix for his next album but ultimately not used. I added a Hendrix related logo.