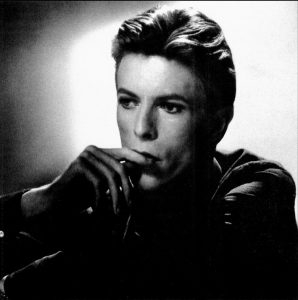 We now move to the third and final of my Bowie playlist CDs. I have not gone any further because I could just about listen to Bowie's 80s output but found what he produced from Tin Machine onwards was not to my tastes. Anyway, I digress. Bowie left the hedonistic lifestyle that head fuelled his work in Los Angeles and moved to Europe to clean up; but had also become interested in German bands such Neu and Kraftwerk. He would also find inspiration from the album Epsilon in Malaysian Pale, a solo record from Tangerine Dream guitarist/keyboardist Edgar Frosse. Brian Eno became a collaborator and Bowie moved away from the Blue Eyed Soul of his L.A. work to one of electronica and ambient. What is different from Bowie's previous work is the number of instrumentals on what became known as the Berlin trilogy of albums. These albums have a very distinct sound, but the songs on Bowie's first album of the 80s (Scary Monsters and Super Creeps) have a similar sound, so those from this album that were used have been placed on disc one.
Disc two takes us into Bowie's commercial 80s period. Let's Dance was released in 1983, three years after the release of Scary Monsters which was at that point, the longest gap between new Bowie LP releases. The album's title track would be a number one hit single in UK, US and numerous other territories. The album also sold over 10 millions copies and at the time was Bowie's most successful album. However, this could be argued to be the first time that Bowie tried to second guess his audience, especially as he had gained so many new ones. The two albums that came after Let's Dance, Tonight and Never Let Me Down were all commercial successes. However, they weren't particularly well received by fans and critics, and Bowie distanced himself from them as early as 1990. It is easy to see why. They are well produced and very commercial, but the contrast with the experimental music featured on disc one of this collection is the most striking of all of the Bowie collections. Whilst disc one is full of audio landscapes, disc two became a generic mix of over production and session men. It's therefore no great surprise that Bowie called this his Phil Collins years. One surprise on the second disc must be the inclusion of the song, Too Dizzy. Written as a homage to the 50s, Bowie came to dislike the song so much that it was deleted from all reissues of the record. Nevertheless, it finds a place here.
CD 1 is Bowie at his most experimental, and CD 2 at his most commercial. It goes to show more than any other of the Bowie collections I have posted the ever evolving nature of his music and craft.
The cover image was taken during the Berlin years and perfectly captures the nature of the music recorded during those years.
Disc 1
Moss Garden
Speed Of Life
Fashion
D.J.
Weeping Wall
V-2 Schneider
Sound & Vision
Be My Wife
Warszawa
Breaking Glass
Boys Keep Swinging
Blackout
Ashes To Ashes
The Secret Life Of Arabia
Look Back In Anger
Heroes
Always Crashing The Same Car
Teenage Wildlife
Disc 2
Let's Dance
China Girl
Without You
Criminal World
Bang Bang
Neighbourhood Threat
Blue Jean
I Keep Forgetting
Cat People (Putting Out Fire)
Time Will Crawl
Too Dizzy
Zeroes
This Is Not America
Loving The Alien
Absolute Beginners
As The World Falls Down
The playlist for disc one is available on Spotify, but disc two could not be re-created because one or more songs were not available on that platform.